How Do I Care for Short Thick Hair?
Short thick hair shouldn't be over-washed or over-conditioned. Using blow dryers shouldn't be done at all or at least very minimally, as it can create dryness — especially in short, thick curly hair. Even thick hair can break if it is brushed when wet, so this should be avoided in favor of a wide-toothed detangling comb. Getting a trim from a salon every four to six weeks can prevent short thick hair from feeling too heavy by keeping it manageable and well-shaped.
If thick hair isn't kept regularly trimmed, it can become tangled more easily as well as look untamed and overgrown. Choosing a hair stylist accustomed to working with short thick hair can be a great idea for the best result. This type of stylist may also be able to give good suggestions for short hairstyles based on curly or straight textures. He or she may also be able to make recommendations for the best shampoos, conditioners and styling products for thick hair types.
Using just enough of a product designed to clean, condition or style thick hair should always be the goal to avoid residue buildup on the scalp. Since short thick hair can be difficult to rinse properly, a hand-held sprayer nozzle is often the best choice since it's typically easier to get it close to the scalp than a shower fixture or sink tap. One hand can move the hair strands while the other can control the hand-held sprayer attachment to thoroughly rinse the scalp from shampoo and conditioner. Unless a hairdresser advises otherwise, thick hair shouldn't be washed daily.
After washing, conditioning and rinsing well, the hair should be gently towel dried then left to air dry whenever possible. Blow drying short thick hair can cause dryness and damage. Curly hair especially can become dry and frizzy after blow drying. If a person with either straight or curly thick hair does want to use a blow dryer, it's best to towel and air dry the hair as much as possible first to avoid maximum damage. Hot irons used to create sleekness and shine can be a different story on thick hair since the strands are usually strong enough to withstand these types of styling tools.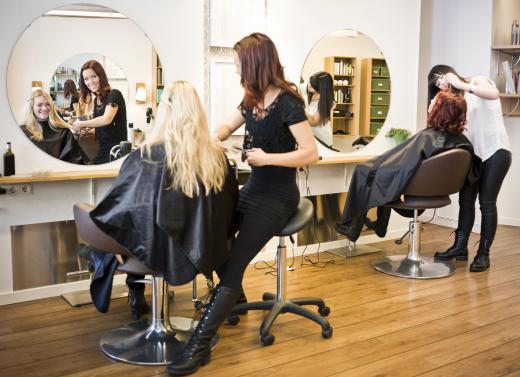 Wet hair should be carefully combed rather than brushed. A wide-toothed, detangling comb is usually the best option. If the hair is extremely thick or curly, a long-toothed pick comb can often be a good combing solution. Many people with short thick hair prefer the bone or wood varieties of comb, as they tend to scratch the scalp less than plastic versions. For dry thick hair, a paddle brush usually works well. The thickness of the hair can make it very difficult to rinse well and shampoo and conditioner residues can build up on the scalp.
AS FEATURED ON:
AS FEATURED ON:






By: EuToch

A stylist can recommend the best shampoo and conditioner for thick, short hair.

By: ia_64

You should minimize the use of blow dryers with short thick hair.

By: gemenacom

A person with short thick hair should visit the salon every four to six weeks for a trim.