How do I Become an SEO Writer?
Becoming a search engine optimization (SEO) writer is not dependent on training or education, but rather on having a certain set of skills and being able to follow directions. Any person with competent writing skills and the ability to adhere to precise requirements can become an SEO writer, though the speed and ease with which one writes can have an impact on how profitable the profession is in each individual case.
SEO writing jobs are often performed on a freelance basis and advertised publicly on the Internet, and most SEO writers work remotely. Getting started is simply a matter initiative, and there are always many opportunities available online for anyone who wants to become an SEO writer.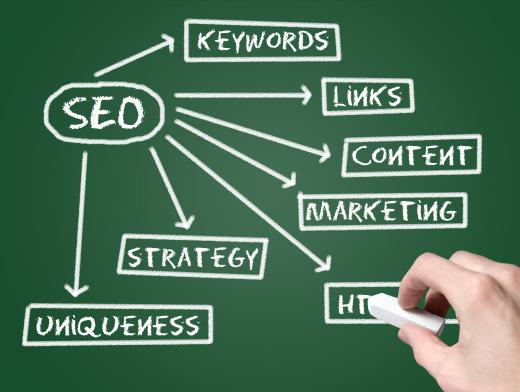 Before attempting to become an SEO writer, it is usually a good idea to become familiar with SEO. This kind of writing evolved out the fact that search engines rank websites using algorithms to show what the computer believes are the most relevant results for the search terms first. One way to appear relevant to a search engine is to include repetition of a major search term in the content of the article, as well as several other related search terms as well.
Using the keyword too many times can cause the algorithm to classify the article as spam, whereas too little may make the article not show up on search results seeking that term. By understanding how the targeted search engine works, one can optimize the writing to appear maximally relevant to that search engine.
Most people who hire SEO writers have a specific strategy for getting higher rankings in search engines. Typically, the SEO writer will be given precise requirements for the article, such as the exact range of times the main keyword should appear in the article. It may be required that additional keywords be found within the article a number of times. Most clients also have writing standards to which the writer must adhere, working to ensure that the people searching for the term will not immediately click back to the search results, which lowers the page's ranking in search results. For these reasons, it is important to write not only keyword-focused articles, but also to provide content that keeps the reader on the page.
In order to become an SEO writer, one first needs some example articles to show potential clients. These articles should identify which keywords were targeted and demonstrate the quality of the writer's work. Providing three writing samples is usually enough to show potential clients, as most only ask for one or two examples. These articles will be included as examples when first applying to become an SEO writer for client, but after a few jobs have been performed, links to articles written for other sites can be used in a portfolio.
There are usually opportunities for freelance SEO writers available on websites that post other writing jobs, or these can be found on search engines. Websites such as Craigslist or Elance are popular places to seek SEO writing opportunities.
Getting the first job is usually the hardest and lowest paid since experience is limited. That said, demonstrating the ability to do this work and having satisfied clients will make finding more opportunities easier. Completing work in a timely manner, producing quality writing, and being knowledgeable about SEO techniques all help in building a network of clients.
AS FEATURED ON:
AS FEATURED ON:






By: ronstik

SEO writers should understand the basic aspects of SEO content and how to utilize it in their writing.

Craigslist was founded by Craig Newmark.