How do I Become a Wedding Caterer?
To become a successful caterer for any type of event, you must be skilled at cooking, planning, supervising, organizing, and handling customers. If you want to become a wedding caterer, you must also offer competitive service, unique dishes, and formal meals. You must have the ability to serve large groups of people, as many weddings have guest lists that reach into the hundreds. A small catering business that is comfortable serving small parties and meetings will need to grow significantly before it can accommodate the needs of a wedding.
As you work to become a wedding caterer, your first step should be to assess your skills and brush up in any areas where you may be lacking. If you do not have a formal education in cooking, enroll in some classes that will teach you new skills and provide a valuable asset for your resume. Business courses can be useful as well if you are uncomfortable handling the many organizational duties involved in catering. You will need to hire servers, balance your income and expenses, and market your business.
An up-to-date website is an important tool for a wedding caterer. Your site can provide menu samples, pricing, and contact information. A website is also an excellent way to advertise your services.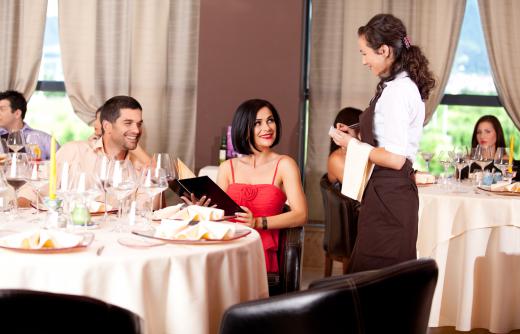 Once you are equipped with the necessary skills, you must equip yourself with the tools of the trade. Dishes, utensils, and linens appropriate to a formal wedding reception are a must. You may be able to rent some of these items when you are first starting out, but it will be beneficial to own them as soon as possible.
A professional kitchen either in your home or in a separate business facility is essential to become a wedding caterer, as many reception locations do not offer a kitchen. You will need a large van for transporting the food from your kitchen to the wedding reception. You must also consider the appropriate tools and containers for food preparation, storage, transportation, and serving.
In order to really become a wedding caterer, you have to find clients. Locate bridal shows in your area, arrange to set up a booth, and provide samples of your best dishes. Run advertisements in local wedding magazines.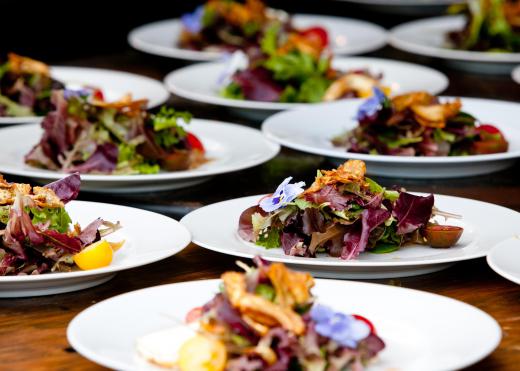 Contact businesses in your area that are likely to have contact with brides-to-be, such as dress shops, ring stores, and florists. Leave fliers or pamphlets in these businesses, if possible. You may also be able to arrange a deal with these companies where you will agree to refer customers to one another. Wedding planners and popular reception locations in the area are another source of free advertising if you can strike a good deal.
When brides-to-be start to contact you, be prepared to spend as much time as needed with each one to ensure that you can provide the dream wedding experience she is looking for. If you are accustomed to catering business lunches and other small events, the sheer amount of planning and attention to detail that weddings require may be a big change. Offer tastings, sample menus, and as many customizable options as possible to provide each couple with a one-of-a-kind experience. Remember that in wedding catering, you are providing a very special meal for a day that is sure to be remembered.
AS FEATURED ON:
AS FEATURED ON:






By: shotsstudio

A catering agency may have servers on staff.

By: Eric Limon

A wedding caterer is a professional who specializes in providing food and drink for the receptions that traditionally follow matrimonial ceremonies.

By: Kzenon

Wedding caterers can make advertising and other arrangements with wedding planners and operators of food service venues.

By: sattriani

Wedding caterers may serve food as part of a buffet.