How do I Become a Reconstructive Surgeon?
A reconstructive surgeon is a person who uses surgical procedures to restore appearance and functional ability to various parts of the body. If you want to become a reconstructive surgeon, you will typically have to spend more than eight years working on your education and training. In most cases, you'll need to earn a high school diploma or its equivalent as well as a bachelor's degree before spending four years in medical school. Depending on the jurisdiction in which you will work, you may also need to commit three years to residency training in general surgery. You may then spend two or more years on residency training that is specific to your field; most places require surgeons to seek licensing as well.
Generally, you will need either a high school diploma or an equivalent credential to begin working toward a reconstructive surgeon career. In high school, you may do well to take advanced science courses in preparation for the work you will need to do in college. For example, taking advanced courses in biology and chemistry may prove helpful. Additionally, advanced math classes, composition courses, and classes that help you develop communication skills may provide a good educational foundation.
Once you've enrolled in college, you can typically choose any major to work toward becoming a reconstructive surgeon. Majors such as pre-medicine, chemistry, and biology may provide excellent preparation for medical school studies. Psychology is also among the majors medical students frequently choose. While in college, you may do well to maintain a high grade point average and develop relationships with your professors. A high grade point average may make it easier to get accepted to medical school, as can letters of recommendation from college professors who know you well.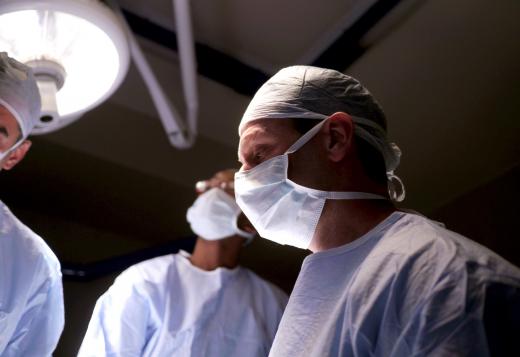 After college, you'll typically need to spend four years in medical school followed by several years of residency training. Residency training is meant to provide aspiring reconstructive surgeons with hands-on experience that further prepares them for a career in medicine. Depending on the jurisdiction in which you want to become a reconstructive surgeon, you may have to complete a three-year general surgery residency and commit two or more years to a residency training program in your specialty.
In most places, you'll also need a license to practice medicine to become a reconstructive surgeon. You'll typically have to meet educational requirements and pass an exam to gain licensing. Some jurisdictions may also require you to obtain certification to become a reconstructive surgeon. This usually involves taking an additional exam or exam series.
AS FEATURED ON:
AS FEATURED ON:






By: Franck Boston

A reconstructive surgeon helps to surgically restore a body's function.

By: fivepointsix

Some reconstructive surgeons must be certified in their field.