What does a Rhinoplasty Surgeon do?
A rhinoplasty surgeon is a plastic surgeon who specializes in performing procedures on the nose. While many people associate rhinoplasty with the "nose job" in which surgery is done for cosmetic reasons, rhinoplasty surgeons also perform reconstructive procedures to address issues such as breathing problems. These surgical specialists are usually members of a professional organization of plastic surgeons, and they may also belong to a society of rhinoplasty surgeons.
Cosmetic procedures on the nose are performed to address a wide variety of aesthetic issues, such as concerns about nose size or shape. A rhinoplasty surgeon can correct issues such as nostrils which are too large, asymmetry, or aesthetic damage caused by trauma to the nose. In these types of procedures, the rhinoplasty surgeon and patient meet together before the surgery to discuss the patient's desired outcome, giving the surgeon a chance to examine the nose to plan the best approach to the surgery.
Reconstructive rhinoplasty can correct congenital birth defects which impair breathing and smell, and it can also be used to repair a nose which has been badly broken. These procedures can include a cosmetic element, as the surgeon wants to leave the nose looking aesthetically pleasing, but the primary goal of the procedure is to correct a physical issue which is causing pain, distress, or discomfort.
Rhinoplasty surgeons can work in hospitals or clinics which offer cosmetic procedures. Surgeons who perform reconstructive surgery may be in a position which requires them to be on call at all hours to respond to emergency situations involving the nose which require immediate surgery. The more quickly treatment is provided, the better the outcome can be for the patient, and while damage to the nose is not necessarily an immediate emergency priority, it can be. A rhinoplasty surgeon who focuses on performing cosmetic procedures is less likely to be on call, and more able to set his or her own hours.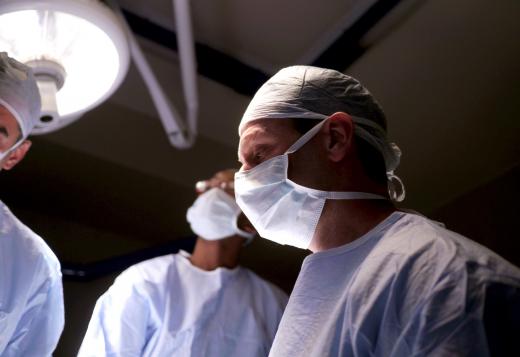 Like other surgical specialists, rhinoplasty surgeons tend to be very well paid. Their skills are unique, and acquired in the course of extensive training, and the fees they charge reflect this. Some rhinoplasty procedures may be covered by insurance, especially in the case of reconstructive procedures, while others may be excluded from insurance and health plans. Patients who are concerned about the cost of a rhinoplasty surgeon may want to find out if a surgeon offers payment plans or research the conditions for coverage under their insurance plans.
AS FEATURED ON:
AS FEATURED ON:






By: rufar

A rhinoplasty surgeon reconstructs the nose for cosmetic purposes.

By: Antonio Gravante

A rhinoplasty surgeon is considered a plastic surgeon with a sub-speciality in nose jobs.

By: fivepointsix

Rhinoplasty surgeons can work in hospitals or clinics which offer cosmetic procedures.