How Do I Become a Program Support Assistant?
Program support assistants can perform a wide range of duties depending on the employer, industry and level of the job. As a result, the specific requirements for someone looking to become a program support assistant vary significantly from position to position. Obtaining a formal education is almost always helpful and may, in some instances, be required. Experience in your chosen industry and in basic administrative functions is also beneficial, as are any certifications available in your field. You also will need to find and apply for positions, submit your resume and participate in interviews.
In order to become a program support assistant in your chosen field, you will need to develop a solid understanding of the industry's standard requirements. For example, this type of support position for a government or military program might require security clearances. Likewise, you may need specific certifications or licenses to become a program support assistant in a tax office, healthcare research establishment or legal firm. Universities and colleges likely will require at least a four-year degree as well. It is a wise idea to thoroughly research the industry you are interested in to find out what requirements you can expect.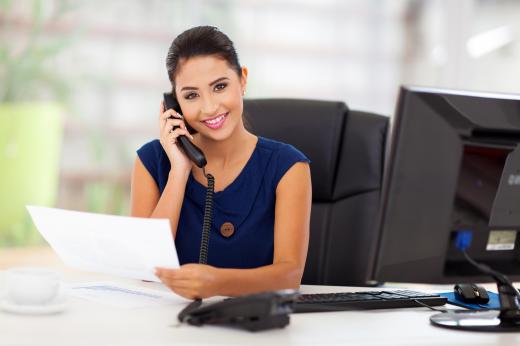 With the exception of research-related companies, these types of positions are primarily administrative in nature. Even if the employer does not typically require a formal education, many prefer candidates who have earned a certificate, diploma or degree. You might, therefore, choose to attend a college, technical school or formal career training program. You could earn a certificate or diploma in administrative assisting or in another area related to your industry. You might alternatively earn a two-year or four-year degree in a relevant subject or in one that holds your interest.
Experience can be important if you want to become a program support assistant, particularly if you do not have educational qualifications. For this type of position, employers will often exchange education for experience on a year-for-year basis. Experience may be specific to your industry, and in some niche industries appropriate experience will be mandatory. Often, however, any general administrative experience, including work as a secretary, accounting clerk or administrative assistant, will suffice.
You can find open positions by searching job boards and company websites. You will need to create a professional resume and cover letter that clearly demonstrate your abilities and achievements. If you are uncomfortable writing these documents yourself, professional services are available. You then will need to apply for positions and go through one or more interviews. In some specific instances — most commonly in government, military, financial and healthcare environments — you may need to pass a criminal background investigation and/or a credit check to be hired.
AS FEATURED ON:
AS FEATURED ON:






By: michaeljung

Administrative or secretarial experience may be useful in obtaining a job as a program assistant.