What Should I Know About Blood Donation?
Blood donation is a great charitable service which can save lives, and many people find themselves being encouraged to donate blood over the course of their lives. For people who are hesitant or uncertain about donating blood, knowing about the mechanics of blood donation and being apprised of a few facts may be useful. Blood banks are almost always in a position to accept blood donations, because blood is in constant need thanks to surgical procedures, accidents, and illnesses which require blood transfusion.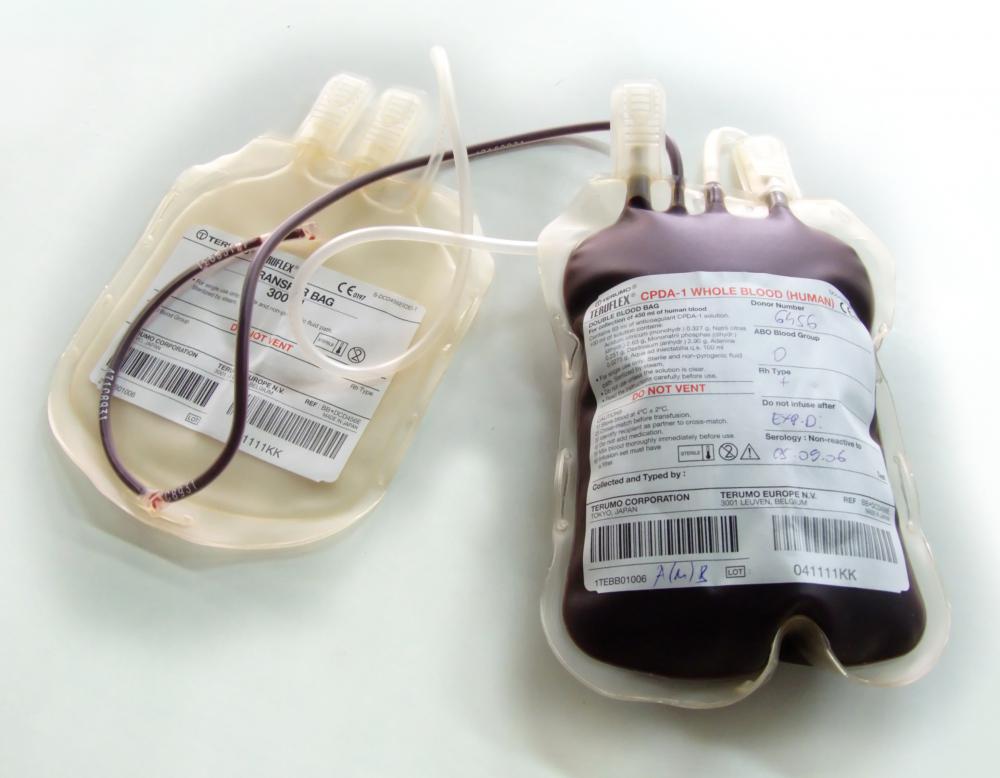 The first thing to know about blood donation is that it is extremely safe. Sterile equipment is used on every donor, and donors are given a health assessment to make sure that they are healthy enough for donation. Anyone from 17 on up can donate blood as long as he or she is healthy and does not meet any exclusion criteria, and the process is relatively painless and very fast.
Most blood banks have a list of exclusions which will be used to evaluate potential donors. People who are sick are excluded for their own health, while people with blood-borne diseases like Hepatitis C are excluded from blood donation. Travel to certain regions, lifestyle habits, and other factors can all be exclusions, although being excluded once does not preclude someone from donating blood ever again. For example, if someone is refused because of anemia, after the anemia has been treated, he or she could go donate blood.
When donors arrive at a blood collection site such as a mobile blood bank, they will be asked to fill out a short form with medical information before being interviewed by a nurse. After the nurse clears the donor, he or she will sit while a needle is inserted into the arm to collect blood. Donors can also opt for plasmapheresis, a procedure in which only plasma is removed. Plasmapheresis takes slightly longer than regular blood donation.
After the blood has been collected, donors are asked to wait for 15 minutes so that they can be monitored for adverse reactions. They are also typically given cookies and juice during the recovery, and many blood banks give out pins and other incentives to people who donate blood as a way of thanks. Some blood banks also buy blood, especially in the case of rare blood types, to make up for shortages in the blood supply.
In addition to regular blood donation and plasmapheresis, it is also possible for donors to engage in directed donation, in which they bank blood for a friend or family member, typically after surgery or an accident. People can also bank blood for themselves in autologous donation, something which is sometimes done before a surgery. If the donor consents, the directed or autologous donation may be released for general use if it is not needed.
For the first 24 hours after blood donation, people are encouraged to take it easy, drinking fluids to help replace the lost blood volume, and avoiding strenuous exercise and the use of aspirin. Eight weeks after blood donation, people are usually eligible to donate blood again. Plasma donations, which have a much shorter recovery time, are allowed up to twice a week in some regions of the world.