What Should I Expect from Bookkeeping Training?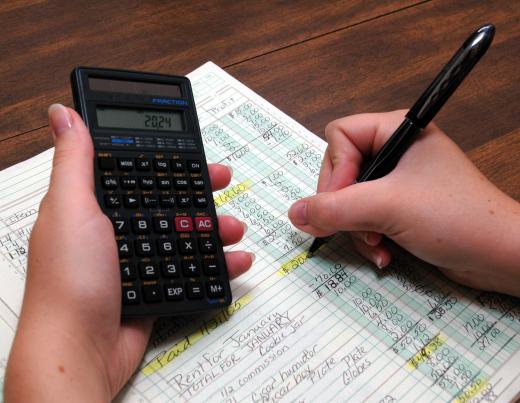 What a person can expect from bookkeeping training often depends on where he trains and the length of the training program. In most cases, however, a person can expect to learn a range of bookkeeping requirements and procedures, including how to use ledgers, journals, and worksheets. Bookkeeping training may also include courses that help the aspiring bookkeeper to build his computer skills and learn to work with commonly used bookkeeping software. It's important to note, however, that some aspiring bookkeepers don't enroll in training programs that are specifically targeted at aspiring bookkeepers. Some may opt to pursue degrees, diplomas, or certificates in finance, accounting, or business instead and take courses that allow them to learn bookkeeping skills as part of these programs.
A bookkeeper is a person who is paid to keep a company's financial records, which are sometimes referred to as its books. This typically involves keeping track of such things as income and expenses as well as the profits and losses the business has. A bookkeeper may also have the responsibility of keeping records of cash flow. In some cases, bookkeepers are also called on to handle such tasks as invoicing clients, completing tax forms, making tax deposits, and handling the company's payroll. A bookkeeper's exact job description, however, will often depend on the needs of the company that hires him.
Bookkeeping training programs often last for about a year, though training length may depend on the program a person enrolls in. There are classroom training options from which a person may choose as well as online and self-study courses. Once a person graduates from such a program he may receive a diploma or certificate. He may also receive on-the-job training once he lands a job.
An individual who enrolls in a bookkeeping training program can usually expect to learn how to record a wide range of transactions as well as how to run related reports. For example, a person who enrolls in bookkeeping training may learn accounting procedures for different types of businesses, and the program he takes may cover such topics as assets and liabilities, business transactions and changes, balance sheets and ledgers, and financial statements. Other topics may include cash systems and checking accounts, various types of journals, and closing and adjusting ledgers. Bookkeeping training courses usually teach aspiring bookkeepers how to keep payroll records and handle taxes and employee benefits as well.
Often, bookkeeping training courses include a business software component that gives students the opportunity to become familiar with the most commonly used types of bookkeeping software. Some may include courses that allow the student to build his computer skills. If not, an aspiring bookkeeper may do well to work on improving them on his own, as computer skills are important in modern bookkeeping.


By: Danny Hooks

A bookkeeper reviewing a ledger.

By: gordand

Bookkeeping training courses allow a student to develop her computer skills.