What Should I Expect from an Aerobics Routine? (with pictures)
An aerobics routine is a fitness routine designed to help people improve stamina and general fitness. The key element of aerobics is that exercisers hit a target heart rate as soon as possible and maintain it throughout the routine. The best heart rate varies depending on age and general physical fitness levels, and a doctor can provide assistance with finding a target heart rate for exercise.
In an aerobics routine, people get their bodies moving and keep moving. The exercise is low to moderate intensity and prolonged. Different muscle groups are worked with a variety of moves and people can integrate props like steps and weights to increase the intensity and vary the routine. This prevents boredom and helps develop more muscle strength.
Some aerobics routines are designed to be done alone at home. People can watch a video or design their own routines. Other routines take place in a classroom environment, usually led by an instructor. The instructor sets the pace, provides direction to students, and helps keep students on task. Usually music is played to provide a rhythm that people can move to.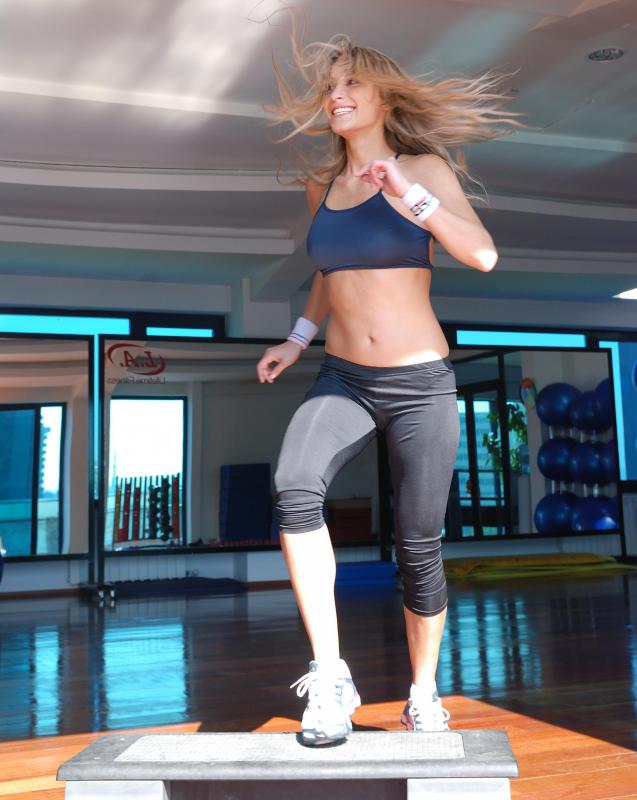 Everyone does aerobics slightly differently. Some people find it helpful to attend classes with different instructors to try out new aerobics routines. This can help people find a routine that works for them in addition to switching things up to prevent boredom. Changing routines also reduces the risk of overworking the body, as different instructors or training videos focus on different areas of the body.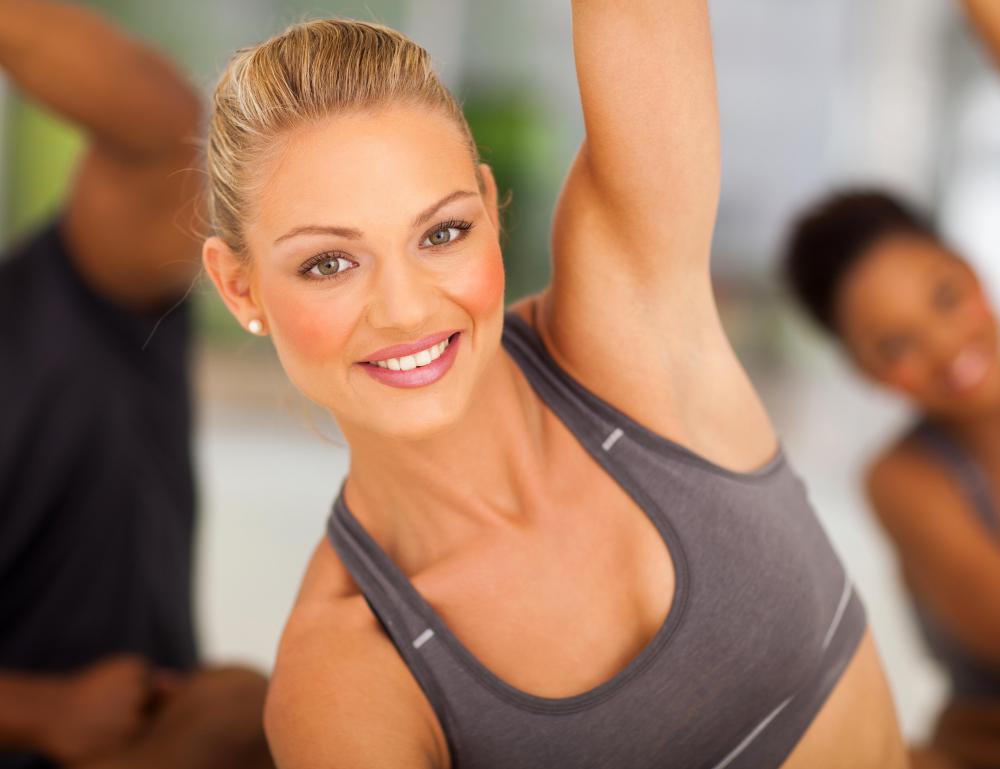 Aerobics routines can be of varying duration and intensity. People who are just starting out in aerobics usually choose shorter, low intensity workouts to familiarize themselves with the routines and to start getting fit. As people become more fit and more familiar with aerobics, they can engage in high intensity, long duration routines that add elements such as weight lifting. A personal trainer or aerobics instructor can help a student identify an aerobics routine that will be safe and effective.
During an aerobics routine, it is key to keep moving. Students who have trouble following the moves at first may be encouraged to jog in place, do jumping jacks, and use other moves to keep their heart rates up. It's also important to drink water, as proper hydration is important for exercise routines. Periodically checking the heart rate to make sure that it is not in the danger zone is advised and if people feel dizzy or experience nausea during an aerobics routine, they should slow down.
It's important to stay hydrated throughout an aerobics class.

Jumping jacks can help keep the heart rate up for those starting aerobics routines.

Jumping on a trampoline is a fun aerobic exercise and can improve one's balance.

Side steps, forward steps and back steps are the most basic moves in aerobics.

During an aerobics routine, the key is to keep moving.