What Should I Consider When Buying Car Paint?
There are several things to consider when buying car paint, including whether custom paint would work for your model of car. Whatever color you choose to paint your car, selecting a paint that will resist chipping and peeling is essential. Buying car paint that offers rust-proof durability is also a must.
Depending upon the look and style you are after, you'll have several options to choose from. One option when you're buying car paint might be custom candy paint. These paints are typically crystalline and luminous, giving the car a glossy finish underneath the base coat of paint.
Mixing custom car paints and adding features such as pearl or chrome is another option. Chameleon paint might be chosen for some unusual eye-catching designs. Lacquer or enamel finishing, both types of acrylic paints, are other options to consider. If you are looking for lacquer paint, however, you might have difficulty finding a store that carries this type of paint. Enamel is more commonly sold, as this paint is long lasting and weather resistant.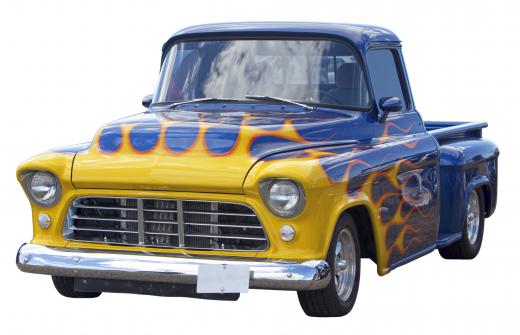 You should consider which color will best match the car's style, make, and model. Sports cars, for example, might do best in vibrant colors such as red, white, yellow, or electric blue. If you are planning on painting a two- or four-door passenger car, you might want to consider basic black. Metallic shades of silver also work well.
Keep in mind that you will need other materials for your project. Buying car paint is the essential first step, but you will also need some type of acrylic reducer. This will prime and harden the paint as it adheres to the body of the vehicle. An automobile supply store should have everything you will need for your project.
If all you require is a simple touch-up paint job, a spray paint might be all that is necessary. Keep in mind, however, that touching up a car will typically involve sanding the old paint and rust to smooth it out, before you can apply your new coat of paint. There are inexpensive auto touch-up paint kits available to cover up minor chipping or peeling. You might even do well with a touch-up paint pen for very small areas that need a simple fix.
To get the best deals when buying car paint, do some online research. Check around town for the best local prices as well as looking in your Sunday newspaper for sales. Also, remember that many of your questions regarding auto painting can be answered with a simple online search.
AS FEATURED ON:
AS FEATURED ON:






By: a

Sports cars often look best in vibrant colors.

By: g0b

A pickup truck with a custom paint job.

By: loraks

A man painting a car.

By: AdrianEugen

Collectors of classic automobiles should use era and model-appropriate color schemes to preserve the value of their pieces.

By: saidin jusoh

Buying car paint that offers rust-proof durability is a must.

By: Robert Wilson

White cars tend to be popular in the U.S., Japan and India.