What Medical Fields Hire X-Ray Technicians?
X-ray technicians commonly work in hospitals, diagnostic centers, and public and private clinics. Regardless of where X-ray technicians work, their duties are usually the same. They are expected to take X-rays of patients and maintain X-ray equipment to make sure the equipment is in good working order. The salary paid for this position varies according to geographic location and levels of education and experience.
Most X-ray technicians find employment in hospitals. There they typically work under doctor supervision, taking and producing X-rays of patients. These technicians are generally expected to take the time to discuss the procedure with the patient, explaining the process and how the results will be used. When dealing directly with patients, a good X-ray technician should be able to adopt a manner that will make the patient feel comfortable about the procedure.
In the United States, X-ray technicians who work in a hospital environment typically earn around $40,000 US dollars (USD) per year. This can vary a great deal according to location and the specific hospital. In addition, experience and education may also be relevant.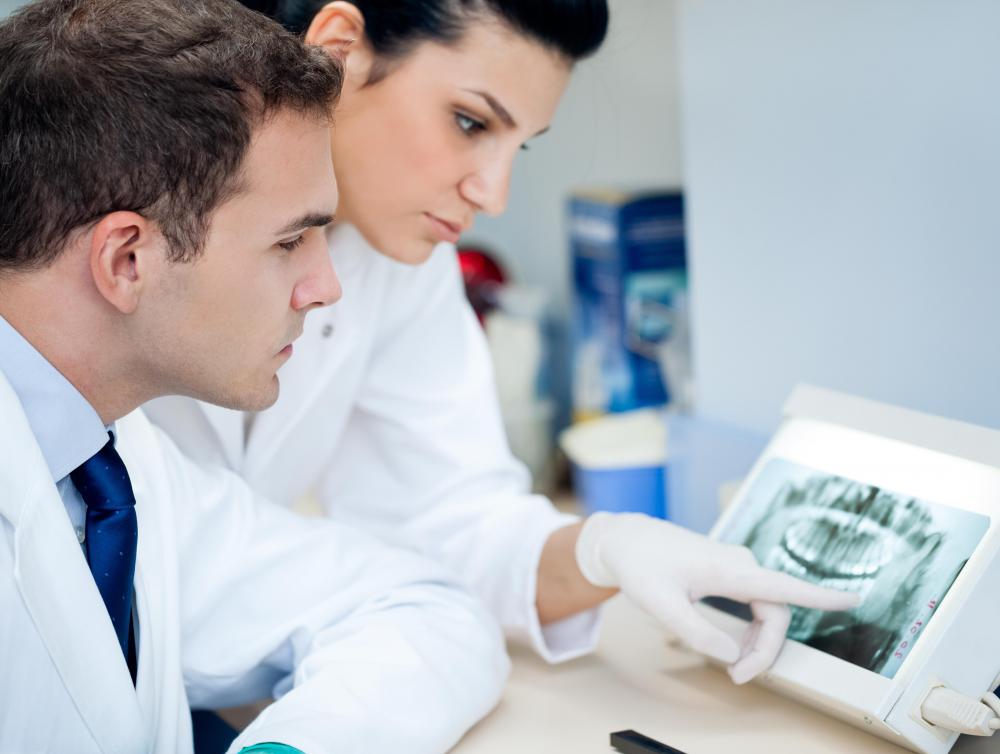 Some X-ray technicians work in clinical settings. Though their duties are often similar to those who work in hospitals, sometimes the pay is better. This may be because small clinics often specialize in treating specific illnesses and may charge patients more for services rendered.
Dentists often use X-ray technicians because in most cases before performing dental procedures dentists need to see an X-ray of the teeth and jaw. These X-rays will show abscesses or problems with bone growth that may not be visible to the naked eye. X-ray technicians who work in the dental field sometimes earn as much as $45,000 USD. In many cases, the X-ray technician may also serve as a dental assistant.
Some schools offer courses that teach students how to serve as both a dental assistant and an X-ray technician. This combination of skills is often necessary because dental offices are often small and may not need the services of a full-time dental technician. Having an assistant who can perform various duties within the office makes it possible for the dentist to justify the salary expense.
Diagnostic centers and laboratories may also offer employment for an X-ray technician. In many cases, small clinics send patients to diagnostic centers for their X-rays rather than performing them in-house. In the US, X-ray technicians who work for private laboratories earn a yearly salary of around $52,000 USD.