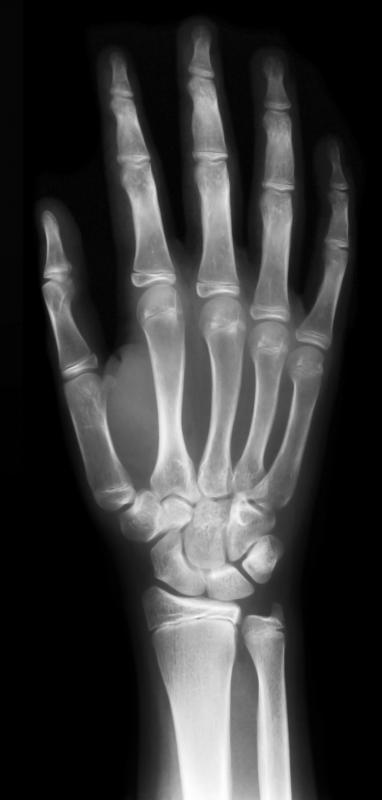 Lead shielding is a practice which is designed to protect people, equipment, and the environment from harmful radiation with the use of lead. Lead is a very dense metal which is capable of stopping alpha, gamma, and x-ray radiation, although it is less effective on neutron and beta radiation. Lead shielding in environments where radiation is present is required by law under codes dealing with occupational health and safety in many regions of the world, and when not required, radiation shielding is usually used anyway due to safety concerns.
For people who work around radiation, lead shielding is designed to reduce the risk of incurring damage as a result of radiation exposure. People like x-ray technicians and nuclear plant employees can wear lead aprons and other shielding garments which reduce their exposure to radiation. Similar protective garments are also used for people who are exposed to radiation in the course of medical treatment, and additional lead shielding can be created with the use of lead barrier walls, as seen in x-ray facilities where the technician stands behind a barrier while the patient is x-rayed.
People getting x-rays sometimes wonder why the technician is given ample radiation shielding, why they may have minimal or nonexistent shielding. The reason for this is that technicians are exposed to a great deal of radiation over time as a result of their occupation, while patients experience only small doses of radiation, which are less likely to be dangerous. Patients who need repeated exposure to radiation as part of the diagnosis and treatment of disease may be given more protections. Technicians are also required to wear devices which are used to monitor cumulative radiation exposure.
Equipment can also need protection from radiation. Lead casings to protect equipment along with lead wall materials are available for lead shielding. Certain experiments can be disrupted by radiation exposure, and in experiments which deal with radiation, controlling radiation with lead shielding can be an important part of the process. In environments with high amounts of radiation, equipment like furniture with lead shielding can be used.
People also use lead shielding in containers which hold radioactive material. Containment of radioactive waste often includes lead shielding, and when radioactive substances are transported, they may be carried in lead-lined containers for safety. In addition to shielding, containers for radioactive material must also bear warning labels and clear labeling which indicates what is inside the container and how the container needs to be handled.
X-ray technicians often wear lead shielding.