What Medical Fields Hire the Most Medical Technicians?
Medical technicians are mostly hired in the medical fields responsible for various testing, imaging, and laboratory work. Some examples are the dental hygiene field, veterinary medicine, and neonatal care to name a few. Biology and pathology are two other medical specialties that hire medical technicians. Clinical chemistry is another medical field that often requires an extensive staff of technicians. Occupation health companies hire a good deal of technicians as well.
Emergency medical services agencies enlist medical technicians regularly, including paramedics. Emergency medical technicians (EMTs) are trained to use the latest technical equipment to treat patients who are injured or ill before they arrive at the hospital emergency room. Quite often, the EMT will transport the injured or ill patient to an emergency care center or hospital.
Cardiovascular care is a field that also hires many technicians. The cardiovascular tech will perform diagnostic tests using the latest technical equipment. This generally involves treatment of cardiac and vascular disease or injury.
Neurology technicians will typically have experience in clinical services and conduct electroencephalographic (EEG) tests. This technician may diagnosis disease or irregularities of the central nervous system. This technician may perform tests to detect disorders involving the brain and spine.
Some medical technicians also work in veterinary medicine. These jobs have greatly evolved over the years, and a large number of technicians are now responsible for diagnosing and treating animals. This may include domestic pets, as well as wildlife. A veterinary technician may have expertise in a particular species of animal or numerous species. Preparing tissue samples, conducting urinary tests, and obtaining blood samples from animals are a few of the tasks involved in a veterinary technician's job.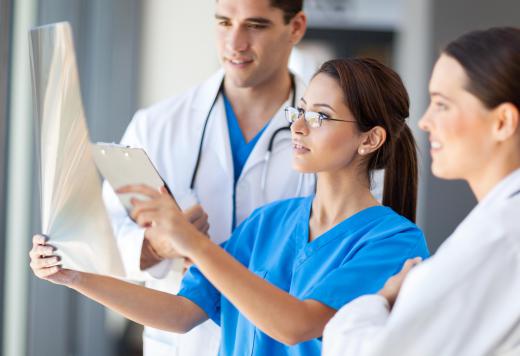 Urology is a medical field dealing with disease and conditions of the kidneys. Many technicians, including the dialysis tech workers, work in urology departments. This certified technician operates equipment for cleansing waste from the blood of patients whose kidneys do not function normally. Many medical technicians are needed in this field, as chronic kidney disease requiring dialysis affects many patients.
A radiology technician, sometimes referred to as a radiographer, typically works with imaging equipment. This technician will operate the necessary equipment to take images of patients who require testing. These can include x-ray machines and MRI machines.
Neonatal care, which is dedicated to treating newborn infants during the first four weeks of life, also requires medical technicians. Many advancements have been made in treating newborn babies with medical problems. Technicians in these departments often care for these sick children.
AS FEATURED ON:
AS FEATURED ON:






By: william87

Emergency medical services hire paramedics regularly.

By: michaeljung

Radiology technicians run medical imaging machines, and develop the images.

By: Tyler Olson

Many dialysis tech workers are hired in the field of urology.

By: Robert Kneschke

Some dental hygienist are also trained X-ray technicians.

By: Tobilander

One of the most common tests performed by electroneurodiagnostic technologists are electroencephalograms (EEGs), which measure brain activity.