What is Viral Hepatitis C?
Viral hepatitis C is a communicable disease primarily caused through contact with infected blood. Unlike other types of hepatitis, there is a relatively low risk of contracting viral hepatitis C sexually; it is most often transmitted through IV drug abuse. Viral hepatitis C is highly contagious and is one of the most common blood-borne infections.
Viral hepatitis C is contracted predominantly through injection drug use with contaminated needles. The hepatitis virus can also be spread through a tainted blood transfusion, though given the rigorous screening processes of modern blood donation, this avenue of infection is unlikely. A baby may be infected with viral hepatitis C if its mother has the disease. Less common modes of infection include sharing items like razors, accidents with contaminated needlesticks in hospitals or clinics, and sexual intercourse with an infected individual, though this is regarded as an inefficient method of contraction.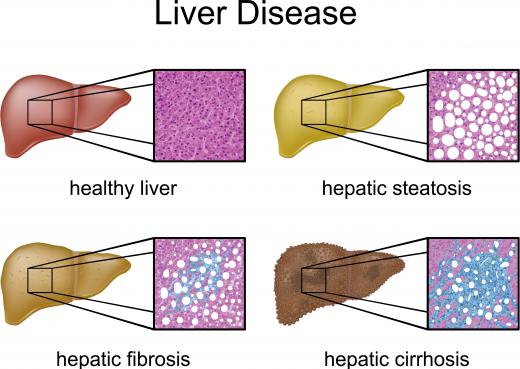 In typical cases, persons with viral hepatitis C do not experience symptoms in the early stages of the disease. But once the infection has fully developed in the system, it wreaks havoc on the liver. Typical symptoms of viral hepatitis C include fever, fatigue, abdominal discomfort, jaundice, joint pain, nausea, vomiting, unusually dark urine, and clay-colored feces.
People who are infected with the disease for more than six months are considered to have chronic hepatitis C. Since the illness is largely asymptomatic in the early stages and subsequently produces flu-like symptoms, many with the disease — 50%-80% of individuals — will have already acquired the chronic version by the time they visit the doctor. Those with chronic viral hepatitis C may go on to develop fibrosis or cirrhosis, two conditions characterized by an extreme scarring of the liver. These conditions could lead to possible liver failure.
The liver is not the only part of the body that can be affected by viral hepatitis C. Diabetes has been found to develop more easily in those with hepatitis C. Kidney disease and Non-Hodgkins lymphoma have also been diagnosed at higher rates.
Treating viral hepatitis C entails the use of medications. Either Pegasys® or PEG-Intron®, two commonly prescribed drugs for the treatment of viral hepatitis C, is used in conjunction with ribavirin, an antiviral drug. A genetic analysis known as viral genotyping may also be conducted on the patient. This type of testing can pinpoint the exact strain of viral hepatitis C with which a patient is infected. There are six main kinds of hepatitis C, with over 50 subtypes, and identifying the precise type can impact the plan of treatment.
AS FEATURED ON:
AS FEATURED ON:






By: peterjunaidy

Types of liver disease, including fibrosis and cirrhosis, complications of hepatitis.

By: Alexander Gospodinov

Donated blood undergoes extensive testing for Hepatitis C.