What is Video Curriculum?
A video curriculum is an education program that enables students to receive instruction and information by watching a video instead of attending traditional classes. This type of learning is very useful for people who are trying to learn at home instead of attending an institution. A video curriculum can also be added to a traditional curriculum for enrichment. Some teachers may even incorporate videos into the classroom in order to allow students to hear lectures by experts or witness experiments that are either too costly or dangerous to perform in the classroom.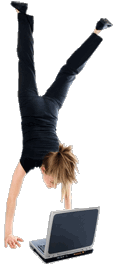 As the popularity of homeschooling has increased, so has the popularity of video curricula. Parents who are educating their children at home can use a video curriculum to supplement what their children are learning through textbooks, workbooks, field trips, and labs. Videos can also help to educate home-schooled children on topics with which their parents are unfamiliar.
There are educational video curricula available in many different subjects. Although these sorts of programs are referred to as being available on video, they are regularly formatted on DVDs. There are a number of media companies that offer a great range of educational products on DVD. The topics that they cover include grammar, punctuation, writing basics, biology, chemistry, and a variety of math subjects. The company also offers DVD packages that focus on preparation for exams such as the SAT®.
For many years people have been learning foreign languages by listening to cassette tapes. It is also possible to learn a foreign language by completing a video curriculum. In fact, a video curriculum is often more beneficial than only audio, as they often include instructions on how to make specific sounds by making appropriate shapes with the mouth. There are many companies that package foreign language curricula for both adults and children at basic, intermediate, and advanced levels.
Video instruction is not just for students who are learning at home or supplementing their school lessons. There are video curricula in many non-academic subjects for people who are trying to hone a skill or learn more about a hobby. One of the most popular kinds of video instruction is in fitness. Many fitness videos and DVDs include a number of workouts and stretches that are intended to build upon the viewer's developing skills. This is exactly the same way that academic videos, which build upon a student's knowledge, are organized.