What is the Connection Between IBS and Colitis? (with pictures)
Irritable bowel syndrome (IBS) and colitis are two different conditions; however, both conditions affect a person's gastrointestinal tract. Some individuals who suffer from irritable bowel syndrome may be concerned that the condition could eventually turn into colitis, but there is no medical evidence that this is true. Both IBS and colitis are chronic gastrointestinal disorders.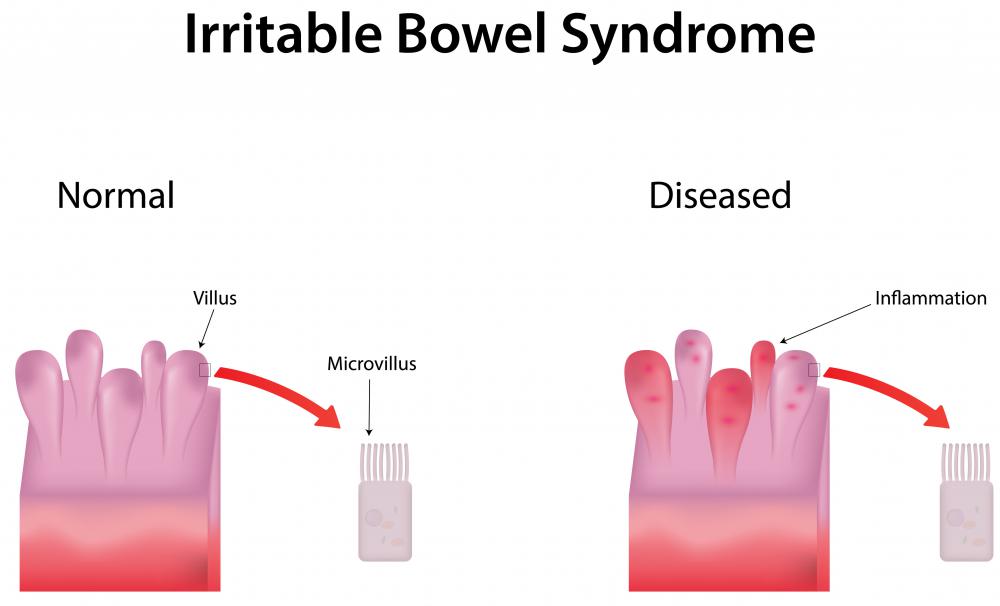 The conditions have common symptoms, which include cramping, bloating, gassiness, and distinct bowel habits. Individuals with colitis may also find their symptoms can be very severe and manifest in the form of rectal bleeding, vomiting or uncontrollable diarrhea. These symptoms may worsen during times of stress and anxiety for individuals with either condition.
Irritable bowel syndrome has an unknown cause and does not leave any visible evidence of its occurrence. Colitis, on the other hand, causes ulcers that can be seen on X-rays. Irritable bowel syndrome is diagnosed based on a patient's symptoms, and doctors diagnose colitis based on medical testing.
Both conditions are fairly common ailments and each goes by different names. Irritable bowel syndrome is also called spastic colon and mucus colitis. It should not be confused with actual colitis, which is an inflammatory bowel disease.
IBS and colitis can last for many years. Both are chronic conditions and do not easily subside. Most people notice symptoms of the disease during adolescence or early adulthood. Worldwide, millions of people are affected by IBS and colitis; generally, men and women are affected equally.
Fortunately, neither condition poses a threat to others. Although the conditions are not contagious, they can still lower quality of life. Some individuals with IBS or colitis have difficulty maintaining their careers and relationships because of the conditions.
Although there are many similarities between IBS and colitis, colitis is actually more closely related to Crohn's disease. Colitis and Crohn's disease are both inflammatory bowel diseases linked to the immune system. Colitis and Crohn's disease trigger an abnormal activation of the immune system. The immune system attacks the intestinal area, which causes the symptoms many sufferers experience.
Because colitis and irritable bowel syndrome are similar, many individuals get the two conditions confused. Also, it isn't uncommon for a doctor to misdiagnose a colitis patient with irritable bowel syndrome. Although there is no cure for IBS or colitis, therapy and medications are available to treat both conditions.
Colitis and irritable bowel syndrome (IBS) have similar symptoms but are two different diseases.

Irritable bowel syndrome has an unknown cause and does not leave any visible evidence of its occurrence.