What is Spinal Laser Surgery?
Spinal laser surgery is a minimally invasive surgical technique used to relieve back and neck pain and treat spine-related disorders. With this type of treatment, surgeons usually use endoscopic techniques, which include the use of a flexible tube with a tiny camera attached to access the part of the spine that requires treatment. Then, they use medical lasers to treat the patient. For example, a doctor may use spinal laser surgery to treat a patient for herniated discs and bone spurs. This type of treatment may also prove effective for the treatment of patients who have nerve-related issues that lead to their pain; sometimes spinal laser surgery is also used to fuse parts of the spine together.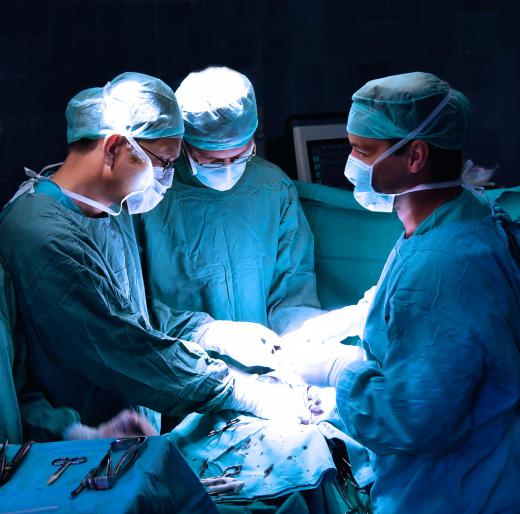 In traditional surgery, doctors use large incisions to access the spine and treat the patient. With spinal laser surgery, however, the main surgical tool is usually the laser the doctor will use. As such, incisions can be much smaller, and endoscopic tools, such as tiny cameras and microscopic instruments, are often used for these surgery. Since the incisions are much smaller and laser spinal surgeries usually involve less trauma to the patient's tissues, this type of surgery often is referred to as minimally invasive.
Typically, spinal laser surgery is used to treat patients who are suffering from conditions marked by pain in the back and neck as well as those that interfere with movement and function. Surgeons may recommend spinal laser surgery for the treatment of herniated discs as well as to remove disks that have broken off or become damaged in some way. This type of surgery may also be used to treat a person who has bone spurs or to perform spinal fusion.
The benefits of laser spinal surgery include the fact that less cutting is involved and most patients do not have to submit to long hospital stays after surgery. With this type of surgery, a patient may not even need general anesthesia. In many cases, doctors use local anesthesia to numb the affected area and provide intravenous sedation to keep the patient calm and relaxed during surgery. Usually, patients who opt for this type of surgery recover faster as well.
Unfortunately, laser spinal surgery is not free of drawbacks. There are risks involved, as there are with other types of surgery. Some of the risks include infection, reactions to anesthesia, and damage to other tissues in the body. Excessive bleeding and leaking spinal fluid are also among the possible complications.


By: Anatomical Design

Spinal laser surgery is an un-invasive method to treat a number of spinal disorders.

By: astoria

Spinal laser surgery, which is minimally invasive, reduces neck and back pain via the use of precision lasers.

By: Alila Medical Media

Laser spine surgery may be necessary to remove a herniated disc.