What Is Laser Spine Surgery?
Laser spine surgery relieves pain and other symptoms by stabilizing the spine or decreasing the pressure on a compressed spinal nerve. The surgery may involve removing a damaged or herniated portion of the spinal disc. Laser spine surgery can also be used to remove spinal growths and bone spurs. Physicians use a beam of light to cut away tissue during the laser surgery.
Experts recommend that patients thoroughly investigate the need for surgery. Back and neck pain can stem from many different causes, and patients should not proceed with any spinal treatment until consulting with a medical spine specialist. Neurologists are capable of evaluating patient symptoms and diagnosing the condition. If the pain a patient experiences does not radiate to the outer limbs, it may be necessary to consult with a pain specialist.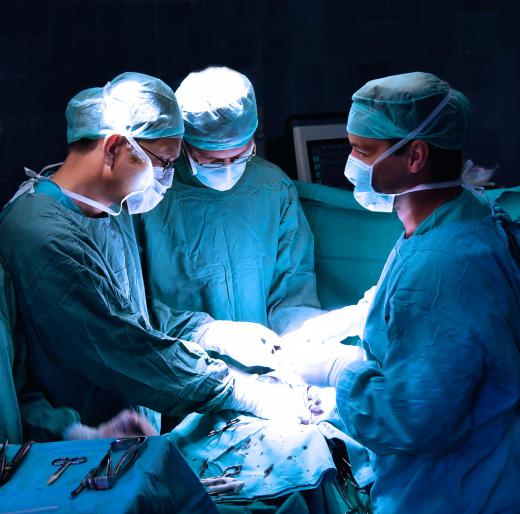 Laser spine surgery allows surgeons to repair damage to the spine with a minimal amount of damage to other parts of the body. Orthopedic surgeons use a long endoscope to see and feel the damaged spinal discs. They can trim the discs of the spine with lasers that do not interrupt the blood supply to surrounding ligaments and discs. Most surgeons suggest that lasers are precise and that they are useful for cutting out the damaged discs without any bleeding in the tissue.
Patients seeking a gentler alternative to spinal fusions should consider laser spine surgery. The conventional surgical technique for spinal fusion involves joining one or more of the vertebrae together so that motion no longer occurs between them. Bone grafts, screws, and plates are usually placed around the spine during fusion surgery. After several months, the body heals itself and joins the vertebrae together. Those who choose conventional spinal fusion surgery face increased risks of developing other spinal conditions.
A few of the other spinal conditions that patients are at risk from with conventional spinal fusion surgery includes spinal stenosis, herniated discs, and foraminal narrowing. The alternative to spinal fusion is percutaneous endoscopic discectomy. Physicians can perform this minimally invasive, laser spine surgery in an outpatient setting. Many of the negative disadvantages associated with the conventional spinal fusion surgery are not experienced.
Not all conditions of the spine can be treated with laser spine surgery, however. Lasers cannot cut through bone, so the surgery cannot decompress patients with spinal stenosis. It is also possible for surgeons to damage the nerve root with the laser during the procedure. Experts advise patients to get a second opinion before proceeding with spinal laser surgery.


By: Alexandr Mitiuc

Sections of the spine.

By: Anatomical Design

Laser spine surgery is often used to reduce pressure on a compressed spinal nerve.

By: astoria

Laser surgery can stabilize the spine or decrease pressure on a compressed spinal nerve.

By: Alila Medical Media

Laser spine surgery may be necessary to remove a herniated disc.