What is Reiki Energy Healing?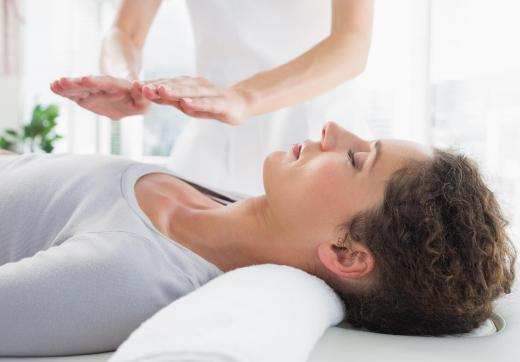 Reiki energy healing is a form of alternative medicine that seeks to heal people through the transfer of energy. It is founded on the belief that every person possesses a life force energy that ebbs and flows throughout the body. Practitioners of Reiki use various methods of healing to balance this energy, including palm healing and remote healing. Through these forms of healing, recipients of the Reiki treatment might receive a whole body treatment or a localized treatment that focuses on a specific area of the body. These methods of Reiki energy healing might be used to treat stress and illness or to promote wellness and relaxation.
During a typical Reiki palm healing, the practitioner will use his or her hands to lightly touch the patient in specific positions over the body. The person performing Reiki energy healing might also tap, stroke, or blow lightly on an area of the body in an effort to relieve excess energy. Palm healing does not always involve direct contact, as some Reiki practitioners will hold their hands at a slight distance from the patient's body.
These techniques can be used in both whole body and localized Reiki energy healing treatments. Most whole body treatments will use between 12 and 20 hand positions, lasting for 45-90 minutes. Whole body treatments are often used for chronic problems or for individuals with high stress levels. A localized treatment uses fewer positions, as it is meant to heal energy in a specific area of the body. The average localized treatment lasts for about 20 minutes and is most often recommended for recent injuries.
Some Reiki masters are able to practice healing by looking at the patient and concentrating energy in order to balance it throughout the body. This potential also allows people to practice distance healing, in which the Reiki master and recipient are in entirely different regions of the world. As Reiki energy healing harnesses energy and spirit, it does not require physical presence to be conducted. In distance healings, Reiki masters will often use a physical object as a representation of the recipient while channeling energy.
When people want to learn how to heal through Reiki, they must receive an attunement from a Reiki master. Practitioners of Reiki energy healing believe that anyone is capable of learning Reiki. There are typically three phases a student undergoes while learning Reiki energy healing, beginning with a basic lesson in the hand placements and theory behind Reiki. In the second phase, the student learns how to strengthen the Reiki energy through the use of symbols, which enables the potential for distance healing. After completing the third phase, the student may become a Reiki master and give attunements to other students.


By: WavebreakMediaMicro

During Reiki palm healing, the practitioner uses their hands to lightly touch the patient in specific positions over the body.