What is Professional Property Management?
Professional property management refers to the use of a third party as the primary contact for a piece of commercial or residential real estate. The property manager is often given the power to make the majority of the decisions regarding the marketing and upkeep of the real estate. Contact with the property owner may not occur until a qualified candidate has applied for lease or rental options for the establishment.
The role of a professional property management firm will vary based on the type of real estate under contract with the company. The basic daily functions may include advertising listings, screening applicants, and answering questions about the property. If there are repairs to be made to the listing, whether residential or commercial, the property managers may be given the power to schedule the repairs as needed or with the prior approval of the real estate owner.
Commercial real estate is often handled by a professional property management firm, particularly if the owner of the property is another business or someone who does not live in the immediate area. A commercial property manager may follow a different set of rules and regulations regarding the leasing of the business or building. Zoning laws must be considered before any lease agreement is entered.
The term residential property management is often used synonymously with rental property management. Residential properties can include apartments, single family homes, and mobile homes. The duties of the residential property manager will generally be the same as the commercial counterpart, but without regard to the zoning laws, in most cases.
Professional property management can be established through either a short-term or long-term contract. In many cases, the real estate owner will contract out the management of a property until the lease or rental agreement has been signed. In these cases, all monies will often be exchanged directly with the owner. If the professional property management firm is kept on after an agreement has been signed for maintenance and upkeep, the money may be sent directly to the firm, if the owner wishes to remain anonymous.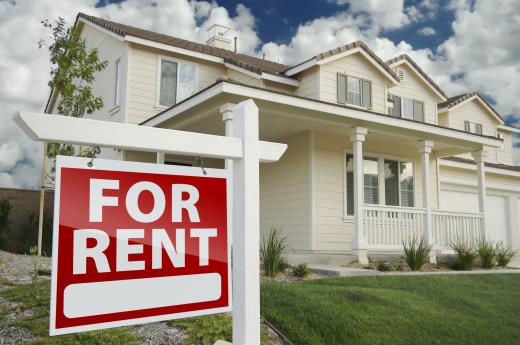 A professional property management team may be better suited to complete background checks, credit checks, and reference checks due to its real estate connections. While some property managers will work solely with owners and property maintenance, others may choose to continue actively selling real estate while managing properties. Many property managers are real estate agents but the terms are not interchangeable.
AS FEATURED ON:
AS FEATURED ON:






By: michaeljung

Professional property managers work in offices and in the field visiting properties and meeting clients.

By: andiafaith

Screening lease applicants is among duties performed by professional property managers.

By: Andy Dean

Professional property managers may manage residential rental properties.