What Is Orthopedic Trauma Surgery?
Orthopedic trauma surgery involves procedures to correct injuries to various parts of the musculoskeletal system. This often includes operations to repair fractured bones of the arms, legs, and hands. Orthopedic surgeons may also use non-invasive methods such as physical therapy or medications to correct trauma that damages the musculoskeletal system. Some common causes of impairment requiring orthopedic trauma surgery are sports injuries and car accidents.
Other than orthopedic surgeons, there are various other medical professionals involved in orthopedic trauma surgery. Nurses who specialize in this branch of medicine will assist the orthopedic surgeon or physician. Anesthesiologists are also involved with the orthopedic trauma surgery team.
Orthopedic surgeons will have extensive training in the treatment of bone and joint trauma, but they also perform various techniques other than surgery. They may perform deformity correction or lengthening the limbs. Orthopedic surgeons can also perform procedures or initiate treatment to help regenerate bone.
Reconstruction is a major part of orthopedic trauma surgery as well. This type of surgical procedure may reconstruct limbs that have been severely damaged by trauma. Crushed hands, arms, legs, or feet often require reconstructive surgery and care by orthopedic specialists.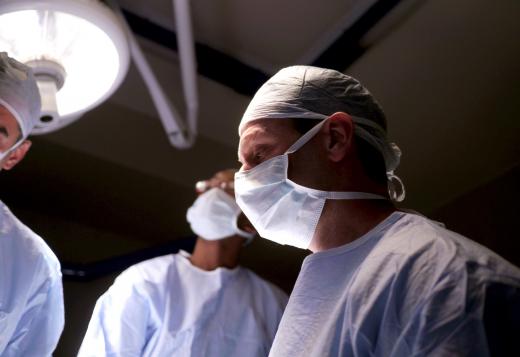 Musculoskeletal tumors may require orthopedic trauma surgery. Children suffering from musculoskeletal tumors may be treated by a pediatric orthopedic surgeon. This type of surgeon may treat tumors on the spine, as well as tumors on bones, joints, and other tissue.
Some cases of traumatic joint injury may require a full joint replacement, and this procedure is common in orthopedic trauma surgery. A knee replacement is generally performed when the joint of the knee is severely impaired, causing extreme immobility. Knee trauma may be due to an accident, excessive wear and tear, or disease.
Post-traumatic osteoarthritis can lead to debilitating trauma of the limbs. In severe cases, orthopedic trauma surgery is needed to repair the damage or reconstruct a joint. Bone deterioration may also occur in patients who have suffered from osteoarthritis for many years. Degenerative disc disease and rotator cuff tendinitis may also require orthopedic surgery.
Degenerative disc disease afflicts the lumbar disc of the lower back, often causing severe pain and deterioration of the damaged disc. This damage may be due to physical trauma or repetitive stress injury, and may require treatment or orthopedic surgery. Surgery may help alleviate pressure on the lumbar disc, and post-operative physical rehabilitation therapy is often recommended as well.
AS FEATURED ON:
AS FEATURED ON:






By: Gennadiy Poznyakov

Orthopedic surgery requires a team of surgeons, nurses and anesthesiologists.

By: fivepointsix

Musculoskeletal tumors may require orthopedic trauma surgery.

By: jamstockfoto

Orthopedic trauma surgery involves procedures to correct injuries to parts of the musculoskeletal system, including broken bones and limbs.