What Is Nuclear Medical Imaging?
Nuclear medical imaging is used in diagnostics to examine and analyze different parts of the body. Instead of using a machine to send high-energy electromagnetic waves through the body, such as in an X-ray scan, a small amount of radioactive material is put into the patient's body. The nuclear imaging machine can then detect where the material is, resulting in an image.
There are many types of medical imaging, such as X-ray scans, which use high-energy electromagnetic waves, and MRI scans, which detect the magnetic spin of particles in the body. Nuclear medical imaging uses small doses of radioactive materials that can then be detected by a machine. As with other forms of medical imaging, nuclear images are usually completely non-invasive, aside from the initial injection.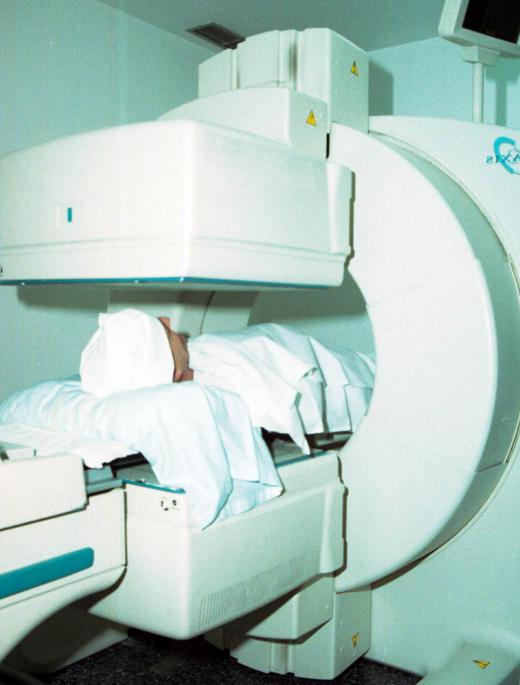 Before a nuclear medical imaging scan takes place, the patient is given a small amount of radioactive material. This is sometimes taken orally, but also can be provided through an injection. In some cases, the radioactive material may be inhaled as a gas. Once the material has been given time to spread through the body, the person is placed in a machine. The machine detects where the radioactive material is in the body and takes multiple images.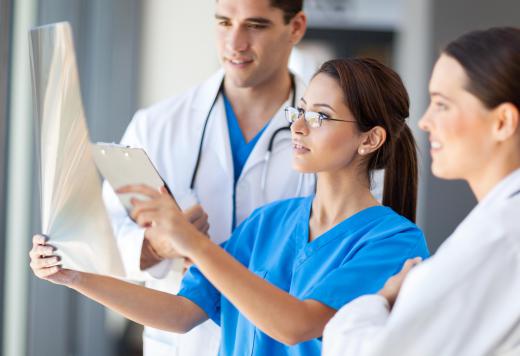 Nuclear medical imaging usually takes less than an hour to complete. During this time, the patient is required to be as still as possible, because multiple images are taken and combined later. Before the test, the patient may be required to avoid eating or drinking for a certain amount of time. After the test, there generally is no need to stay in the hospital or change diet.
There are a number of illnesses and injuries that can be detected using nuclear medical imaging. Nuclear techniques, for example, are effective at analyzing the kidneys, scanning the lungs to detect problems with blood flow and examining broken bones. Nuclear imaging also can be used to detect infection, check for the spread of cancer and examine the bowel for signs of bleeding.
The amount of radiation required in nuclear medical imaging depends on the type of system used and which part of the body is examined. In all cases, the amount of radiation is kept to a safe level, and the person in charge will attempt to keep the radiation level to the minimum required. Although the idea of injecting radioactive material may make some patients uncomfortable, the dosage is often lower than day-to-day background radiation.
AS FEATURED ON:
AS FEATURED ON:






By: Paco Ayala

An MRI machine is an example of nuclear medical imaging, as it detects small amounts of radioactive material in a patient's body.

By: michaeljung

Nuclear medical imaging often allows doctors to make a diagnosis without invasive testing.

By: adam121

Nuclear medical imaging uses radioactive material that is placed into the body and tracked using an imaging machine.