What is Medical Negligence?
Medical negligence is an alternative term for medical malpractice. These terms refer to medical care that is tarnished by a negligent act or omission by a medical professional or facility which results in injury. When instances of medical malpractice arise, the injured party is often able to take legal action. Such cases are commonly considered to be an area of personal injury law.
In many jurisdictions, people are legally entitled to receive a certain standard of medical care. In such cases, negligence generally arises when medical professionals do not adhere to those standards. This can occur as a result of irresponsible or erroneous actions or as a result of actions that should have been taken but were not.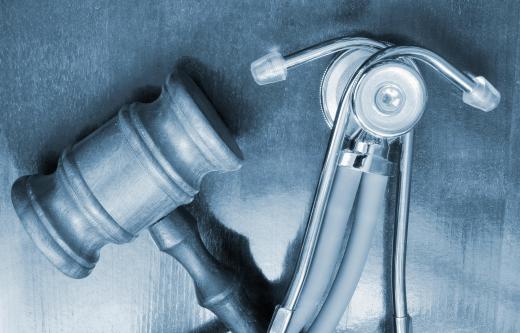 Inadequate skill, care, or speed can be cause for medical negligence claims. Any person, including doctors, nurses, or specialists, who assumes any part of the responsibility for a patient's medical care can be held liable for medical negligence. Those professionals who provide psychological care are also responsible for the well-being of patients and could be charged with malpractice. Medical facilities play a role in patient care and they too can be charged.
When issues of medical negligence arise, the actions of the accused medical professional are often weighed against the levels of competency and professionalism of his peers in the same or similar circumstances. This means that a brain surgeon will be held to the standard of other brain surgeons. It also means that if a general practitioner chooses to perform procedures normally performed by a specialist, he will be judged by the standards of the specialty in which he tried to act.
Medical negligence is not a tool to be used by those who are dissatisfied with the results of medical care. It cannot generally be used because a medical professional failed to cure a condition. A person claiming medical negligence must suffer some harm. That negative experience must be harm that she would not have experienced if a medical professional or facility had not acted negligently.
In most jurisdictions, medical malpractice is a tort. Cases regarding these issues are often heard in court and may include a jury. Such claims do not, however, result in criminal prosecution. Parties who are found guilty may be subjected to a variety of professional consequences, such as suspension from practice or the revoking of professional licenses. They are also likely to be responsible for the financial compensation of victims.
AS FEATURED ON:
AS FEATURED ON:






By: Valeriy

Medical negligence involves cases where the care of a patient has been alleged to be dismissive or negligent.

By: Anna

An experienced medical negligence lawyer can play a key role in winning lawsuits against hospitals and doctors.

By: redcarpett

A charge of medical negligence could result from a surgical instrument that was left inside the patient.

By: Alexander Raths

A doctor who fails to disclose all available treatment options to a patient may be sued for medical negligence.

By: Monkey Business

A surgeon who is negligent during surgery may face civil negligence charges.