What is Hospital Negligence?
Hospital negligence is typically a type of negligence performed by the staff at a hospital, which can include doctors, nurses, and administrators. This is usually any sort of action that purposefully or inadvertently has a negative effect on the health of a person after staying in the hospital or undergoing a medical procedure. It is generally a type of medical malpractice, and though the two terms may be used somewhat interchangeably, they are not necessarily synonymous. Hospital negligence is typically seen as an accident, though the negative repercussions can still be great and it is often grounds for a civil lawsuit or malpractice claim.
In general, negligence is typically seen as any type of action or inaction that inadvertently creates a harmful or negative result for someone else. Hospital negligence is just a specific type of negligence, which is directly related to hospitals and similar medical facilities. The term may potentially be used in reference to patient care facilities, doctor's offices, and even in home medical care as well, though this usage is obviously less precise. The common thread among different types of negligence is typically the fact that responsibility for the effects created by the action or inaction can be placed upon a person or group of people.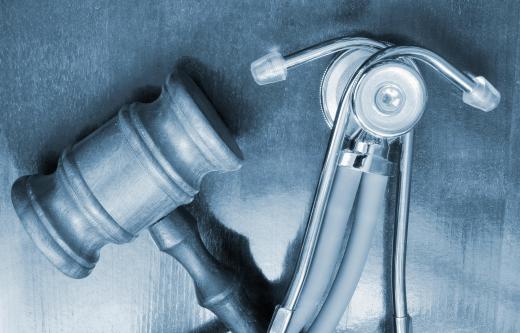 This responsibility is what establishes hospital negligence as grounds for legal recourse against a hospital and staff members directly involved in the case. For example, if someone came into a hospital for cancer treatment, but the treatment was unable to force the cancer into remission and the person died, then this would likely not be a case of hospital negligence. As long as the doctors and staff did everything within their power to help the person, and simply were unable to stop the progress of the illness due to technological limitations, there is no responsibility attributed to the hospital.
On the other hand, if someone came into a hospital for a surgical procedure, and during the procedure a surgeon cut something incorrectly or left a piece of equipment inside the person, then this would be grounds for hospital negligence. In this situation, the surgeon may have simply made a mistake, but ultimately it was an avoidable mistake. This means that responsibility for the action can be placed upon the surgeon, as well as the hospital itself for employing the person. The responsibility creates hospital negligence and this type of case would likely be open for a medical malpractice lawsuit.
AS FEATURED ON:
AS FEATURED ON:






By: Valeriy

Hospital negligence may lead to a malpractice lawsuit.

By: beerkoff

Hospital malpractice can occur when a hospital staff member has provided substandard service.

By: Anna

An experienced medical negligence lawyer can play a key role in winning lawsuits against hospitals and doctors.

By: Tim Glass

There is a higher risk of hospital negligence in a facility's emergency room area where patients need to receive critical care quickly.

By: Gennadiy Poznyakov

Hospital negligence occurs when the action of medical professionals have a negative effect on the health of a person after staying in the hospital.

By: Monkey Business

A surgeon who is negligent during surgery may face civil negligence charges.

By: Konstantin Sutyagin

Failing to properly diagnose a mental condition could result in a hospital negligence suit.