What is Lumbar Back Pain?
Lumbar back pain is pain centered in the lower region of the spine. Many people experience lumbar back pain at some point in their lives, and the causes range from spinal deformities to kidney problems. Treatment of lumbar back pain can involve input from an orthopedic surgeon, a neurologist, and other medical professionals, depending on the underlying causes. Conservative treatment options for managing the pain include rest and applying heat and ice to the area; on the radical end of the spectrum, surgery may be recommended.
People can develop lumbar back pain of a variety of types. It may be dull and aching, sharp and shooting, chronic, or intermittent. Patients may experience pain radiating down into the pelvis, or fairly localized pain. Some common causes of lumbar back pain include pregnancy, kidney problems, tumors, and issues with the ovaries. Referred pain, where injury in another area of the body manifests as pain in the lower back, can be a cause as well, along with bone diseases, shingles, and disorders of the spine like osteoarthritis.
When a patient complains of lumbar back pain to the doctor, a physical examination and patient interview will be performed to learn more about the precise location and nature of the pain. Medical imaging studies may be requested to look for physical defects in the spine that may account for the pain, and the patient's medical history is also considered. Someone with a history of spinal injuries caused by strain, for example, would be at risk of future stress injuries to the back.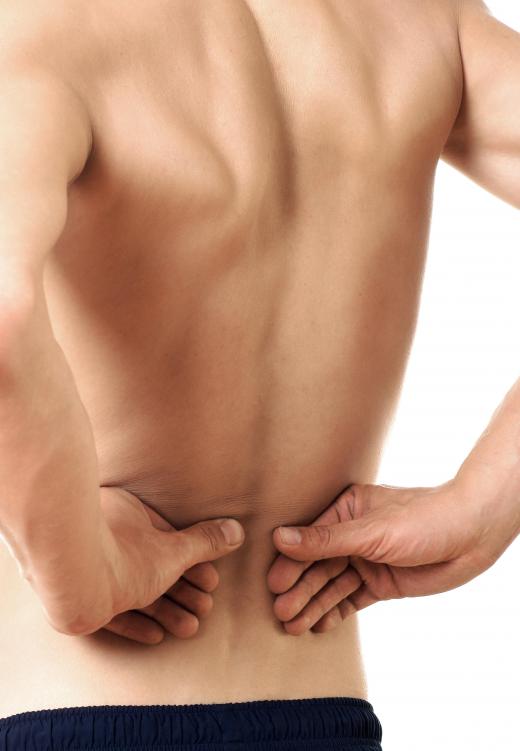 Sometimes, resting the back in a neutral position, using ice and heat as needed, and taking over-the-counter anti-inflammatory medications is enough to resolve lumber back pain. Other patients may need more aggressive treatments including narcotic pain relievers, implantable stimulation devices to interrupt nerve signals from the spine, or surgery to correct defects. Doctors usually start with less aggressive methods of treatment and gradually introduce other options if these methods are not effective.
For some patients, lumbar back pain can become a chronic and very irritating problem. Back pain does not always respond well to treatment, and despite being provided with treatment options, patients may not experience relief. Permanent disability can occur, as chronic pain may make it difficult to focus on work-related tasks or can make it challenging for people to engage in physical activities required for work. A thorough evaluation is generally needed to see if a patient qualifies for disability, and patients may be placed on temporary disability first, to see if rest is sufficient for their recovery, before being offered permanent disability benefits.
AS FEATURED ON:
AS FEATURED ON:






By: peterjunaidy

An illustration of a healthy spine and one with spinal osteoarthritis, one cause of back pain.

By: underdogstudios

Lumbar pain is pain in the lower back.

By: sframe

Lumbar back pain may be caused by pregnancy.