A lumbar brace is used to support the lumbar portion of the spine. The spine is comprised of 24 vertebrae, with lumbar region being the lowest portion of the spine. It is usually an area that is afflicted with back pain because it carries the largest amount of weight from the body. The lumbar area is also subject to significant spinal stresses and forces.
Back pain is typically the result of strain or injury from strenuous overuse. For example, lifting heavy objects or twisting the back excessively may cause lumbar back pain. If the nerve roots of the spine are subject to undue pressure, pain may also be experienced. This is most common with herniated or slipped discs, osteoarthritis, compression fractures, or other medical ailments or injuries.
Every lumbar brace has the ability to fit the wearer snugly. Some have two bands that adjoin with Velcro® while others have several additional bands that also cross the wearer to provide maximum compression. Depending on the brand of lumbar brace, it can also have several adjustments -– perfect for providing the tightest fit and the most compression for the back.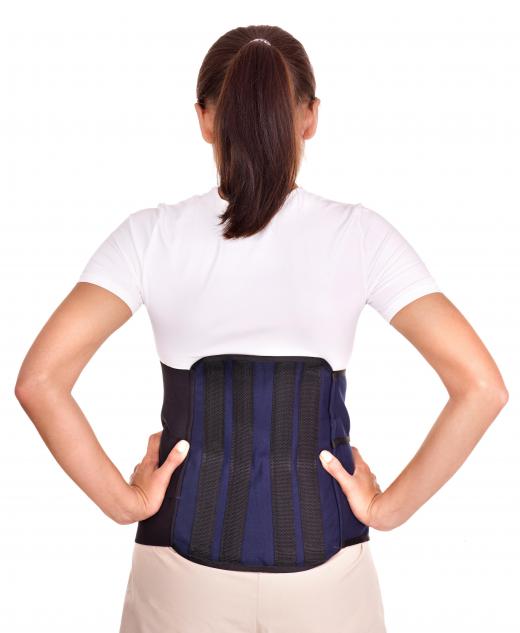 It is also important that the lumbar brace provide plenty of support and stabilization. Tired back muscles, strains, and other injuries can only rejuvenate themselves if they are provided adequate support. Many lumbar braces have firm foam pads that can be inserted into pockets to provide additional stabilization as well.
There are a few options for those who need a lumbar brace. For example, some have warming pads. In some cases, the temperature of the warming pads can be regulated by an outer controller. Another option is a massage pad. It typically massages pressure points in the lower back to stimulate and relax the lower back muscles. Bone stays, gel pads, shoulder straps, and steel springs are additional features that can be found in some models.
The proper fit is essential when purchasing a lumbar support. They typically come in generalized sizes, such as extra-small, small, medium, large, and extra-large. However, it is important to look at the sizing guides to make sure that it will fit around the waist, yet still compress and support the muscles of the back. For example, a small may fit a 24 to 30 inch (61 – 75 cm) waist.
Some braces are worn underneath clothes and others are worn on top of clothes. If it is something that will be worn for an extended period of time each day, it may be best to purchase a brace that is worn inconspicuously under clothes. In the alternative, if is going to be worn briefly when certain projects are underway, such as moving a heavy item, it may be better to have an outer lumbar brace that can be quickly taken off when the project is completed.
AS FEATURED ON:
AS FEATURED ON:






By: peterjunaidy

An illustration of a healthy spine and one with spinal osteoarthritis. Individuals with serious problems in the lower spine may need to wear a lumbar brace.

By: Gennadiy Poznyakov

Back braces may be worn for posture and back support.

By: milan2099

A lumbar brace can be used to treat or prevent lower back pain.