Laser skin care is a general term for a set of procedures that can help to remove blemishes or tighten skin through the application of lasers. There are a number of cosmetic issues that a laser can address, including blemishes, scars, prominent pores, birthmarks and wrinkles. Some procedures work by removing a portion of the surface of the skin and then allowing new skin to grow. Other procedures penetrate beneath the skin to help trigger natural chemical processes in the body. Most laser skin care treatments are designed to be used on the face and neck, although other parts of the body can be targeted.
One of the most widely performed laser skin care procedures is to reduce wrinkles and lines on the face; this is called laser skin tightening. The process begins with a local anesthetic to relax and numb the area. A special type of laser is then used to send thermal energy through the surface of the skin and heat the water in the layers underneath. This heating immediately causes collagen in the face to contract, tightening the area and promoting the growth of new collagen in the area.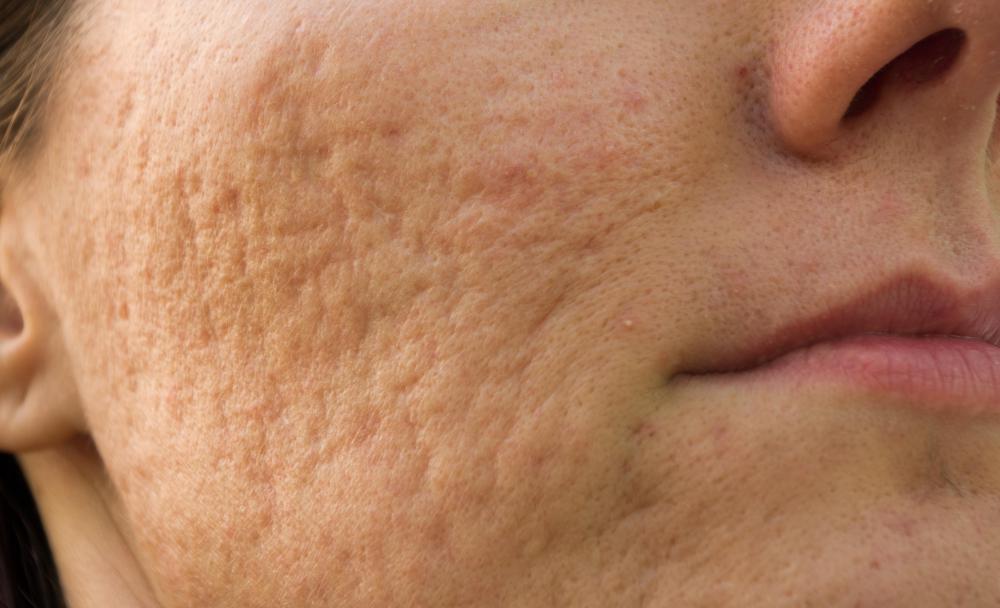 Cosmetically, there are various superficial irregularities that can be treated with a different type of laser. The irregularities can be a blemish, acne scarring, birthmark, freckles or moles. Conditions such as spider veins and other problems that can bring blood vessels to the surface also are candidates for laser skin care.
This process, also known as laser skin resurfacing, is performed using one of two types of lasers. The first is a carbon dioxide laser that operates at a lower frequency than some other lasers. A carbon dioxide laser is used to affect the very shallow surface of the skin, usually above the dermis or only penetrating very shallowly into the dermis. The second type of laser is an erbium laser, based on the element of the same name. This laser can penetrate deeper into the skin than a carbon dioxide laser and often has fewer side effects.
Laser resurfacing works by removing the skin in the area that is to be treated. Once the skin has been removed, the area is dressed and new skin is allowed to grow. The new skin most often does not contain the same visible irregularities as before. This is one of the more popular forms of laser skin care.
There are some factors to consider when weighing laser skin care treatments. It can take a relatively long time for the skin to heal after some procedures. This can be different for each person, but it can take up to six months to a year, in some cases. Any new skin that grows on the face also may be discolored for a long time until it becomes established. Laser skin care treatments also are not recommended for people who smoke, because smoking can inhibit the healing of the skin.