What is Laparoscopic Gastric Banding?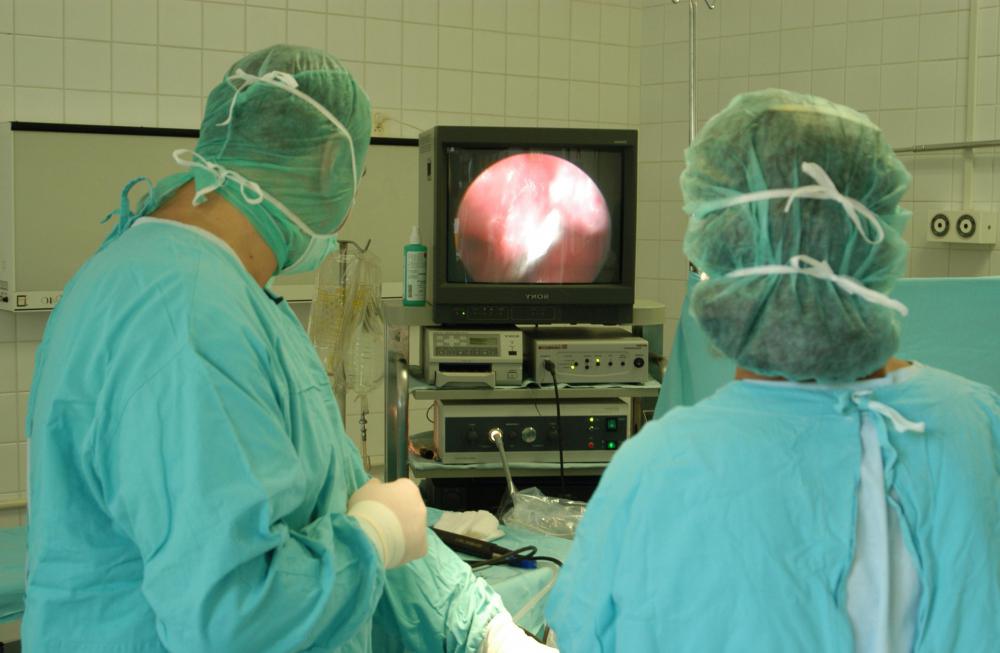 Laparoscopic gastric banding is a type of surgical procedure involving the placement of a silicone band around the upper portion of a patient's stomach. The purpose of this band is to help prevent people who are severely obese from overeating. Gastric bands constrict the stomach so that a person cannot hold as much food, and as a result he will likely lose weight and develop healthier eating habits over time. With laparoscopic gastric banding, the entire procedure is normally non-invasive, and a patient will normally have only a few small incisions along with a short hospital stay.
Most doctors do not recommend laparoscopic gastric banding for all of their obese patients. The majority of people who qualify for the gastric banding procedure are severely obese with body mass indexes of more than 40. Doctors also typically don't recommend the procedure unless their patients have tried and failed to lose weight through many other methods and their obesity has caused them to develop health problems, such as high cholesterol, diabetes, or sleep apnea. People who are less than the age of 18 or more than the age of 55 also may not qualify as candidates for laparoscopic gastric banding, although there are some doctors who will occasionally perform the procedure on patients who are outside of this age range.
The majority of gastric bands are adjustable, and doctors sometimes have to adjust them as their patients lose weight. Another surgery is not needed to adjust the band, and the necessary adjustments can typically be made with an injection of saline solution just under the skin to inflate the band and decrease the stomach passageway. Some patients choose to keep their gastric bands in place indefinitely, while other patients might opt to have theirs removed after a few years. The majority of patients are able to lose roughly 50 percent of the weight they need to shed within the first year of gastric band use. There is also a large number of people who have gained much of their weight back after having the bands removed.
Even though there may be lots of benefits to laparoscopic gastric banding, there are also some risks and side effects associated with it. Some people have problems with their bands slipping out of place, and there is always a chance that the fluid inside the band might leak out. Patients could additionally experience severe abdominal pain along with nausea, vomiting, and diarrhea as a result of having the gastric band. Sometimes these side effects are temporary and disappear as the body adjusts to the band, but occasionally patients continue to have problems and end up having to have their bands taken out prematurely.
With a laparoscopic gastric banding, the patient will have few incisions and a shorter hospital stay.