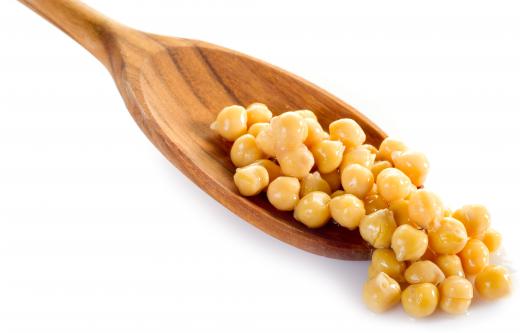 Koottu is a type of Indian curry that can be made in a number of ways but, at the most basic level, is a combination of beans, vegetables and spices. The dish is often made in a pressure cooker to allow the beans and vegetables to cook until very soft in a short period of time, after which they are sometimes mashed together to form a paste-like mixture. The spices vary widely from one recipe to the next but mostly include items such as shredded coconut, black mustard seeds, turmeric, chilies and curry leaves. The overall flavor can be savory or slightly sweet, with the beans providing a meaty neutral base for the rest of the ingredients. Koottu can be served on its own as a dip with Indian bread, turned into a soup with the addition of some liquid, or poured over hot rice as a full meal.
Beans make up the largest part of a koottu recipe. A combination of several types of beans can be used, as is typical in Indian cooking. Some varieties that are used include lentils, mung beans, yellow split peas, chickpeas and lima beans, although nearly any type of bean is appropriate. The beans are usually soaked overnight before being used so they soften a little. This is not as important for lentils, which can soften much more quickly than other types of beans.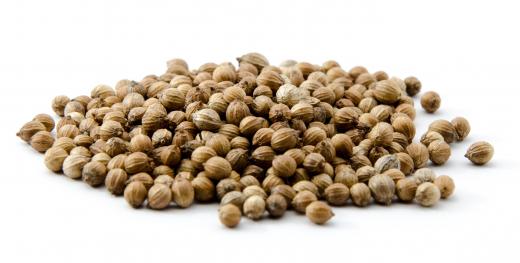 Most recipes for koottu begin by cooking the soaked beans. This can be done in a pot of boiling water or in a pressure cooker, which will cook the beans considerably faster than boiling water in a pan. Some preparations require that the beans be cooked until they are so soft that they can be roughly mashed with a spoon into a thick paste, making the water in the pot a dense gravy-like substance. Other methods, especially when chickpeas are used, leave the beans whole, although they should still be very tender and melt in the mouth.
Additional ingredients are usually prepared separately while the beans are cooking. This can include frying onions, peppers, black mustard seeds, garlic or even diced banana peels until they have developed some flavor and color. Roasting whole spices such as cumin and coriander before grinding them also is common. The prepared ingredients are added to the beans just before they finish cooking.
The final koottu is a mixture of the separately cooked parts. Premade spice mixes such as garam masala or chana masala can sometimes be added for a deeper, more intense flavor. The dish can be served over rice, with bread, or topped with cilantro leaves and fresh lime juice and eaten as a meal.


Koottu often includes chickpeas.

By: Elena Schweitzer

Mung beans are often included in koottu.

By: areif

Koottu is usually seasoned with ground, roasted coriander seeds, among other spices.

By: SNEHIT

Curry leaves are found in most recipes for koottu.

By: Maris Kiselov

Koottu is a type of Indian curry.