Green lasagna is a baked dish composed of green leafy vegetables, pasta and cheese. Bechamel and tomato sauce also are used in this dish. Some cooks make the pasta by hand, mixing ground vegetables with flour and eggs to make green lasagna noodles. Others use pasta that is pre-made, and simply layer the greens in the dish.
Spinach is most commonly used in green lasagna, though it also can be made with kale, Swiss chard or turnip greens. If the green vegetables are not ground and incorporated into the pasta, they are often chopped and sauteed in olive oil with garlic or shallots. The cooked greens can be used as a separate layer in the dish or mixed with eggs, spices and ricotta cheese, a soft cheese similar to cottage cheese.
Lasagna noodles are long and rectangular in shape. They are designed to fit in layers within a rectangular pan. Green lasagna noodles can be homemade or one can purchase them. They are typically made with finely ground spinach, flour and eggs.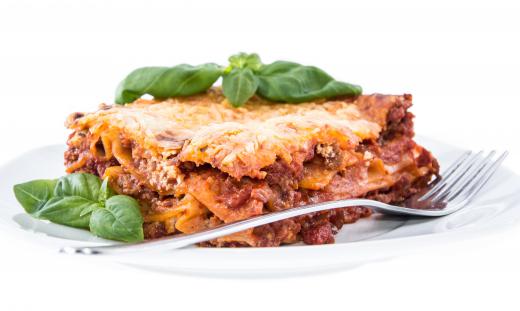 Noodles that are pre-made are often considered more convenient. Most pre-made noodles have to be boiled before baking, though there are noodles advertised as "no-cook." These noodles are par-boiled and finish cooking during the baking process. Some no-cook lasagna noodles may need for the recipe to have a bit of extra liquid to allow them to finish cooking without drying out the dish.
Bechamel sauce is found in many lasagna recipes. To make this sauce, one mixes flour and olive oil or butter. Those ingredients are then sauteed until a light golden roux is formed. Milk, nutmeg and other spices are added, and the mixture is stirred until it begins to thicken into a sauce.
Ricotta and mozzarella cheeses are usually found in lasagna, as are Parmesan or Romano — both hard, flavorful, grating cheeses. Sometimes the vegetables are mixed in with the ricotta, along with eggs and spices. Mozzarella is cut into thin slices or shredded and used in layers and as a topping along with the grated cheese.
Depending on the recipe, one may use tomato sauce in green lasagna or just bechamel sauce. Some recipes suggest a simple sauce made of crushed, fresh tomatoes. Others use tomato paste or rich sauces filled with meats such as beef or pork.
The ingredients are layered in a rectangular dish. The first layer is usually béchamel sauce followed by pasta, vegetables and cheese. One continues to add layers and then tops the dish with sauce, mozzarella and grated cheese. The dish is then baked. After it is removed from the oven, it is best to let it set for a few minutes before serving.


By: Elenathewise

Parmesan cheese is often added to lasagna.

By: HandmadePictures

In green lasagna the meat is replaced with green vegetables.

By: margo555

Green lasagna is most commonly made with spinach.

By: forevergreen

Kale can replace spinach in green lasagna.

By: Lucky Dragon

Bechamel is a common sauce in many types of lasagna.

By: Roberto Fasoli

Ricotta cheese is a standard ingredient in most variations of lasagna, including green lasagna.