What Is Beer-Battered Shrimp?
Beer-battered shrimp is a food whose name provides hints as to how it is prepared. Flour and beer are used to coat shrimp that are then pan fried or deep fried. This dish, which is popular in southern areas of the United States, may be eaten as an appetizer or a main course. It is commonly eaten with cocktail sauce, which is tangy-flavored red dip.
The preparation of beer-battered shrimp is fairly simple. The only equipment that is required is a frying pan or a deep fryer. The ingredients include cooking oil, flour, and salt. Some people add other spices, but this tends to be a matter of preference. Any type of beer can generally be used, and there are no real restrictions regarding the size of shrimp that are appropriate. It is best to get shrimp that have been de-shelled, or this will have to be done before preparation.
The initial step in preparing beer-battered shrimp is making the coating. To do this, the beer, flour, and seasonings are mixed in a bowl until the mixture is smooth. Enough flour should be added to ensure that the batter is fairly thick. If it can easily coat the prongs of a fork, for example, then it should be adequate.
The shrimp are then submerged into this batter and completely covered. Some cooks leave the tails on for easier handling. One piece of advice that is commonly offered by seasoned cooks is to avoid putting too many shrimp into the batter, or they may not get properly covered. Another tip is to have the oil already hot when the first shrimp are battered so that they can be cooked immediately. The cooking time is generally only a matter of minutes.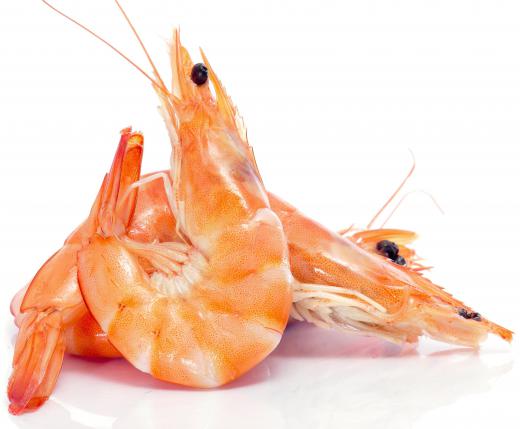 Beer-battered shrimp is a popular dish in many southern U.S. states. It can be found on menus and is also commonly prepared at home. The dish may be served as an appetizer or a main course. The only differences tend to be that, if it is an appetizer, large shrimp are likely to be used, but an individual is given a smaller portion. For an appetizer, it is also likely that the shrimp will be served with their tails.
Some people eat beer-battered shrimp as they are, especially when preferred seasonings are included in the batter. It is common, however, for the dish to be served with cocktail sauce. This is a red, tangy dip in which horseradish is an important ingredient.
AS FEATURED ON:
AS FEATURED ON:






By: jayvee18

Beer.

By: nito

Shrimp.

By: Jultud

Flour is typically used in beer-battered shrimp recipes.

By: al62

Salt and pepper are two essential ingredients in beer-battered shrimp.

By: starush

Beer-battered shrimp can be made in a deep fryer.