What Are the Different Types of Shrimp Appetizer?
There are several different types of shrimp appetizer, the most popular being shrimp cocktail and breaded shrimp. Creamy dips served with crackers and delicate spring rolls are common as well. In addition, grilled shrimp and sushi rolls are also good examples of shrimp appetizers.
Shrimp cocktail is one of the most popular appetizers in many countries. The shellfish is cooked, chilled, and served with the tail still intact. In most instances, it is seasoned only with a tiny bit of lemon juice. The most common dipping sauce for this shrimp appetizer is cocktail sauce, which is tomato and horseradish based; any number of sauces can be used, however, or the shrimp can be eaten plain.
Breaded shrimp is also common. Very small shrimp can be fried or baked in large batches after being breaded and served warm or at room temperature; these are most often referred to as popcorn shrimp. Larger shrimp are typically deveined and shelled with only the tail remaining, and then dipped in a batter and fried. Jumbo shrimp or tiger shrimp are often butterflied before frying and can make a very tasty and visually appealing shrimp appetizer. All of these are usually served with tartar sauce, which is a mix of mayonnaise, capers, relish, and lemon juice. Creamy tomato based sauces with hot peppers or ingredients such as ginger and cilantro are also popular.
Cooked, chopped shrimp can be mixed with any number of ingredients for a dip; this can be served both hot or cold. This shrimp appetizer is typically cream based, and common ingredients include mayonnaise, dressing, sour cream, or cream cheese, or a mixture of these. Spices, herbs, pickled vegetables, or fresh vegetables can be included for additional flavor. When served hot, cheese is often melted into these dips. They are often thick and served with crackers, quality bread, or thick cut chips.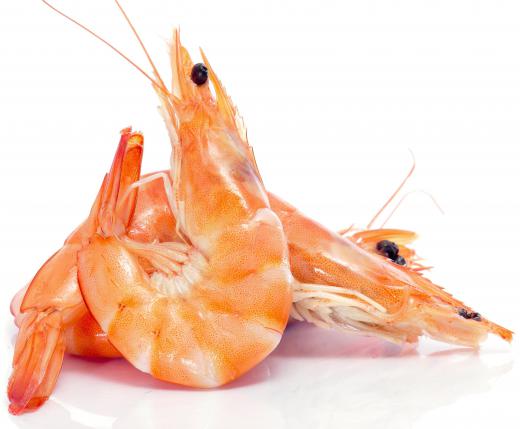 Spring rolls can make a good Asian style shrimp appetizer. Cooked shrimp, without the tail, is mixed with fresh vegetables and spices then rolled into a rice flour wrapper. The shrimp appetizer can be served as is or fried for a crunchy, warm dish. Spring rolls are typically served with strong garlic and ginger dipping sauces which can be either sweet or spicy.
Medium sized, grilled shrimp is a popular dish served at barbecues. These appetizers take very little preparation and cook very quickly, usually in two to three minutes. The shrimp can be grilled plain or sit in a marinade for 10 to 20 minutes before cooking; anything longer tends to begin pickling the shrimp. Sushi is also common; cooked, butterflied shrimp is placed on a mound of sticky, white rice and secured with a strip of seaweed, then served with wasabi, pickled ginger, and soy sauce. The shrimp can also be chopped up and rolled into a California style sushi roll; jumbo shrimp are often served raw in Japan and high end sushi restaurants as a shrimp appetizer.
AS FEATURED ON:
AS FEATURED ON:






Nigiri sushi assortment, including one made with shrimp.

Shrimp canapés.

By: nito

Shrimp.

By: Eventimages21

A shrimp cocktail makes a nice appetizer.

By: Michael Gray

Shrimp can be served in a spring roll appetizer.

By: gloszilla

Fresh spring rolls are often filled with shrimp and vegetables and then dipped in a sweet and sour sauce.

By: klsbear

Shrimp is often served with a tomato and chili based dipping sauce.