Bacon soup is a dish that typically consists of bacon, beans, lentils, and different vegetables mixed in a creamy broth. This dish is one of the types of soups that allow plenty of individual creativity, and many home cooks like to use different recipes with their favorite bacon soup ingredients. The average bacon soup recipe does not consist only of broth; it calls for a thickener such as corn starch, flour, or pearl barley, making this soup an especially hearty dish.
Potato bacon soup is a popular recipe variation that often includes cooked red or russet potatoes steeped in a mixture of heavy cream, flavored soup stock, and bacon fat drippings. Additional flavoring can come from minced garlic, onions, carrots, celery, tomatoes, salt, and black pepper. Some versions of bacon soup recipes instruct the cook to cut up the potatoes into large pieces before adding them to the rest of the soup ingredients. Other recipes require the potatoes to be mashed or pureed and then mixed in as a thickening agent in addition to the heavy cream.
Some home cooks prefer bacon soup with added protein, and beans are a good source of this nutrient. Lentils are another option that can add both fiber and protein to one of these soups. Bacon and bean soup recipes can be made with white, navy, or red beans as well as great northern beans. Although either canned or dried beans can be used, many cooks report that soaking and boiling dried beans allows them to retain a better texture when added to the soup.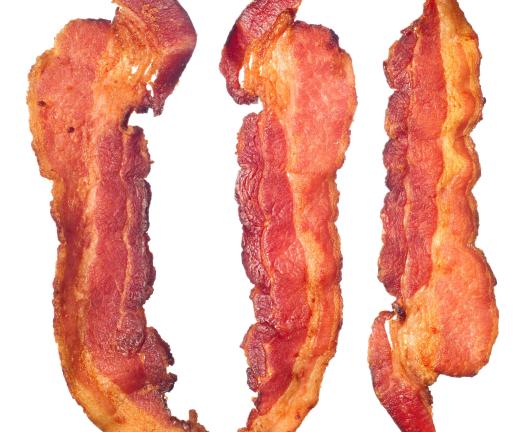 The type of bacon used for soup recipes often varies according to preference. Popular bacon flavors can include peppered bacon for a spicier taste and maple bacon for a somewhat sweeter one. Some recipes include instructions to cook the bacon until it is crispy and then to chop it into small pieces for a soup garnish that adds more bacon flavor along with that from the drippings. Other recipes call for the bacon to be cut into larger pieces and more completely mixed in with the rest of the ingredients.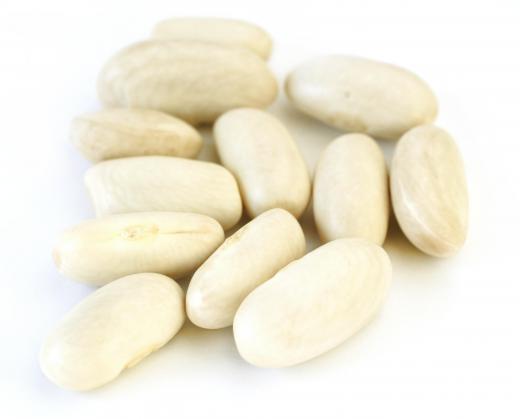 For home cooks who may be concerned about the fat content of this kind of soup, several recipe versions use a lighter broth without the heavy cream or potatoes. Many of these afford the chance to experiment with flavors from vegetables such as leeks and watercress. While this version of bacon soup may not be as filling, it can often provide a good source of nutrition.
AS FEATURED ON:
AS FEATURED ON:






By: marysckin

Bacon soup.

By: Kelpfish

Bacon is a popular ingredient in soups.

By: tfazevedo

Great Northern beans, which are often used to make bacon soup.

By: gitusik

Lentils can be included in bacon soups.

By: Sea Wave

Corn starch can be used as a thickener in bacon soup.

By: James Martin

Some bacon soup recipes include mashed or peeled potatoes.

By: fkruger

Most bacon soup recipes call for flavored soup stock.