Azactam® is an antibiotic medication with the active ingredient aztreonam, which is used to treat severe bacterial infections in both adults and children. It is manufactured by Bristol-Myers Squibb in the United States and received approval from the Food and Drug Administration in June 2010. The medication is given by injection into the muscle or intravenously, and it might take several doses before symptoms are relieved. A doctor should be consulted prior to use if one is pregnant, and one should not use this antibiotic if allergic to penicillin. This medication can interact with other drugs and has several side effects.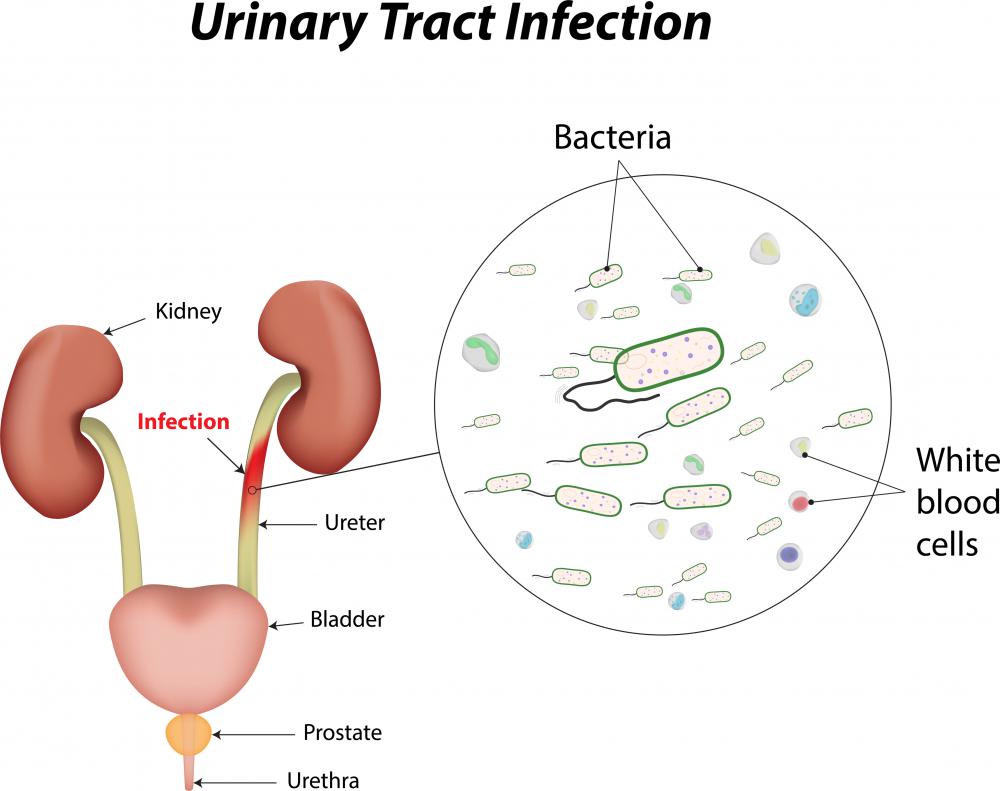 This type of antibiotic works by killing and preventing the spread of bacteria by stopping the protein in the bacteria cells from synthesizing. It is effective in treating bacterial infections, but it does not work for viral infections like influenza. A doctor might prescribe Azactam® for urinary tract infections, stomach infections, or lower respiratory tract infections, such as bronchitis or pneumonia. It also might be used to treat skin infections, ulcers, and burns. Additionally, the medication may be given in cases of female reproductive system infections, like pelvic cellulitis.
Azactam® comes as either a clear solution or a powder for solution. In general, the solution must be kept frozen until used, and it can be thawed in the refrigerator or at room temperature. The medication can be given by injection into the muscle in the hip or buttocks or it can be done intravenously. Typically, it is administered in a hospital or clinic, but occasionally it can be done at home with proper technique for self-injection.
It generally takes several doses of Azactam® to see results, and the medication might be needed for as little as a few hours or as long as several weeks, depending on the severity of the infection. One should continue to use it, even if the symptoms have improved, until the symptoms are gone for a 48-hour period. Stopping the medication prematurely can cause the infection to return or worsen.
Women who are pregnant or breastfeeding should consult a doctor prior to using Azactam®. There are no indications that the antibiotic will have adverse effects on a fetus, but it does pass into breast milk. It can potentially harm a nursing infant, although the risk is considered to be minimal.
One should also ask a doctor before using Azactam® if he has liver or kidney disease because there is an increased risk of side effects. Also, one should let a doctor know if he is allergic to cephalosporin before using it. This antibiotic can interact with several medications, so it is wise to inform the prescribing doctor of any other drugs, nutritional supplements, or vitamins one is taking.
There are some situations in which a patient should not use Azactam®, such as when already taking an antibiotic or if allergic to penicillin. Allergic reactions can cause hives and trouble breathing, as well as swelling of the face, tongue, and throat. If one has an allergic reaction to the medication, he should seek immediate medical help.
Azactam® can cause several side effects. One is watery or bloody diarrhea, which can also be a sign of a new and potentially fatal colitis infection. The medication should be stopped and a doctor should be notified immediately in such cases. Other side effects include seizures, flu-like symptoms, nausea or vomiting, and dizziness.
By: Shakzu

A doctor can offer consultation on taking Azactam®.

By: joshya

Azactam is effective in treating bacterial infections, such as for urinary tract infections.