An FLV encoder is a software tool that allows users to convert video files to Flash® video (FLV) files. These videos are a container file format for the Adobe® Flash® Player, which helps videos to be viewed over the Internet. FLV videos are largely preferred over other video file types by many computer users because they are efficiently compressed and are easily embedded into websites.
There are many reasons a computer user would want to use an FLV encoder to convert video files into FLV videos. The most common reason is that they wish to put the videos on a website that uses FLV videos; they might also want to embed the videos into their own websites. YouTube™, Yahoo!™ Video, Google™ Video, Reuters and MetaCafe® are all examples of websites that use FLV videos or accept FLV video uploads from users.
Common files types that are converted using an FLV encoder include those with the extensions AVI, WMV, MPEG and MOV. An FLV encoder can convert many other types of videos to FLV files as well. These can include MP4, ASF, RM, OGG files and more.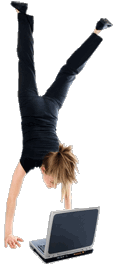 Specific features on an FLV encoder can vary depending on the software and the manufacturer. Some software can give users the ability to set bit rate, frame rate and audio-compression options to their preferences. Customizing preferences such as these can cause the end product of the FLV video to better reflect the user's style or needs. Some software also can slice parts of video files into JPEG images; this can come in handy for users who want to capture a still shot of one frame of a video. If users need specific or complex features on an FLV encoder, they would do well to research an attractive piece of software to verify that the features are present before downloading and installing it onto their computers.
There is an alternative for computer users who wish to convert FLV videos without having to download any third-party software. Users who wish to convert FLV videos without installing software need only to search the Internet for online tools that allow them to do so. Many companies host these converters on websites, and they can easily convert videos to FLV after a user has uploaded videos to the website. These types of online tools are great for users who only have a single, small FLV video to convert, though it's not uncommon to come across a tool that allows users to convert files up to 100 megabytes (MB).
AS FEATURED ON:
AS FEATURED ON:






Woman doing a handstand with a computer