The FLV format is one of several kinds of media containers that allow streaming of online video. It has become one of the most popular media formats, and it is used by many major Web sites, including YouTube, as the standard method for presenting streaming video. Similar media formats include SWF, or Shockwave®; and F4V, which is an updated and improved version of FLV. Although FLV was developed by Macromedia Inc. and later acquired by Adobe Systems Inc., it is an open source specification, but most of the codecs used to compress files for use in FLV are not open source. Some of the most common compression formats used for this application include the Sorenson Spark, VP6, AAC and MOV formats, as well as MP3.
To view FLV files, a computer must have a Flash® Player as a separate program or as an add-on installed through the web browser. Because Flash® video is so prevalent throughout the web, the majority of web browsers include add-ons to accommodate FLV streaming files. It also is possible to view these videos via Flash® downloads, for which a Flash® Player also is required to view them on the computer. In the absence of a Flash® Player, a Flash® converter may be used to change the Flash® video file to another file type that can be easily viewed with existing software. An FLV converter can also be used to convert files to the FLV format to be uploaded for viewing, though many of the major sites that host streaming video, including YouTube, Google video, Yahoo! video and others, allow conversion on the fly as the original file is uploaded.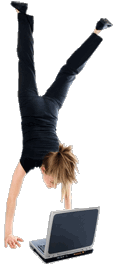 The files within the FLV container usually consist of a video file and an audio soundtrack, which are synchronized for playback. Numerous audio and video formats and codecs for file compression are supported because of the popularity of this format, with the notable exceptions of DivX and XviD. For those wishing to create Flash® media files, Adobe® provides information regarding specific file specifications. The audio and video data is interleaved and stored within the file in a manner similar to that used in Shockwave® (SWF) files, which still serves as the default Flash® format. Although properly prepared Flash® video files can be viewed online through the Flash® Player, if the FLV file is delivered directly, it can be viewed only through software specifically configured for playback of this file type.
AS FEATURED ON:
AS FEATURED ON:






Woman doing a handstand with a computer