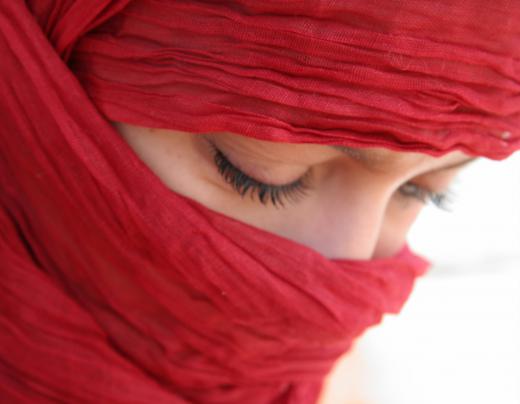 The term winter hijab can be used to describe a headscarf worn by Muslim women and women living in Muslim countries during the colder winter months. It can also refer to garments that meet Islamic modesty standards while also keeping the wearer warm and comfortable. Some companies that specialize in the manufacture and sale of Islamic clothing offer specially designed winter hijab clothing. In other cases, women who wear hijabs may develop their own forms of winter hijabs by combining garments and head coverings to create warm and attractive outfits.
Many Muslim women as well as women who live in jurisdictions that enforce Islamic standards in dress wear a headscarf or head covering while out in public or in the presence of men to whom they are not closely related. This hijab is typically wrapped around the head and neck, revealing only the face. Various types of fabrics are used to make hijabs, but they are usually thin enough to allow for draping. Unfortunately, this means that the headscarf may not offer enough protection and warmth when it is cold outside. In some cases, a hijab wearer may simply wear a hat or earmuffs over the headscarf or may choose to layer a cap or underscarf under her primary hijab.
In response to the need for a warm headscarf, some companies have developed a winter hijab. In some cases, the winter hijab is made up of a heavier fabric that can be draped several times around the head. In other cases, a winter hijab is made from a thick, insulating fabric such as fleece. These hijabs may also be designed with fasteners or in a pullover style so as to remain in place even if the wearer is outdoors in strong winter winds. Some styles can be worn on their own, while others are designed to be worn over a standard headscarf.
As the emphasis in Islamic dress standards tends to be on modesty, it is typically not particularly difficult for a woman to choose other garments that offer enough weight and coverage during the winter months. Many Muslim women wear what is known as a jilbab, or a long dress, coat, or cloak over their everyday garments. The jilbab is designed to provide additional coverage and to conceal the shape of a woman's body. Some clothing manufacturers produce jilbabs in heavier fabrics for wintertime. In addition, some women may also wear other types of garments, such as long winter dresses and skirts, sometimes worn over slacks, as part of their winter hijab.


By: Claus Mikosch

A winter hijab describes a headscarf worn by Muslim women during winter months.