What is a Whey Protein Shake?
A whey protein shake is dietary supplement used by athletes, dieters, and other health conscious people. Made from whey protein, the shakes are available in both powdered and concentrated forms. The drink may be used as a meal supplement, or in conjunction with a physical fitness program.
Whey is the leftover product from coagulated milk. A lactose-water solution, it is made up of the soluble components of milk. The protein found in whey is globular, and contains several different types of protein. Whey shakes are high in calcium, typically costing less than other dairy products. Whey protein shake powder is often available in chocolate, vanilla, strawberry, or coffee flavors.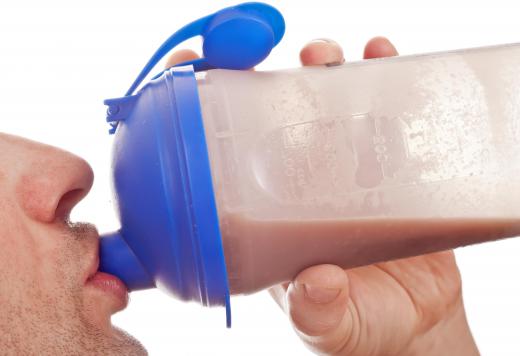 Typically, whey protein is available in three forms. These include isolate, concentrate, and hydrolysate. Isolates are nearly completely made up of protein due to their processing. Lactose and fat are removed from this type of protein. Whey concentrates are largely made up of protein; they are also generally low in cholesterol and fat. Hydrolysates are an easily-absorbed form of whey that usually has the highest cost and the lowest allergenic properties.
Some studies suggest that whey protein may be helpful in combating certain ailments. Among these are possible anti-cancer and anti-inflammatory properties. Whey protein may also be helpful in reducing the risk of heart disease and extending the life of aging adults. These possible benefits may be due to whey's ability to stimulate glutathione production, as the antioxidant can help protect the body against free radical damage.
Many athletes use whey protein shakes to help protect themselves from excessive injuries during a workout. Some report feelings of increased energy after drinking a whey protein shake. Protein drinks can help build muscle mass, and increase the speed of recovery after a workout. They can also help satiate the appetite and stabilize blood sugar levels, helping dieters refrain from overeating. These benefits are not attributed solely to the protein found within the drink, but also to the amino acids within it.
Other people prefer a whey protein shake to a full meal because they consider it a convenient, quick meal. Protein shakes typically have no side effects. People with milk allergies or dairy intolerance may wish to consult a doctor prior to drinking a whey protein shake. When buying whey protein powder, athletes usually look for the highest amount of protein per ounce (gram) available. While some protein shakes require a blender, others can simply be stirred prior to use.
AS FEATURED ON:
AS FEATURED ON:






By: Deymos

Many nutritionists prefer whey protein shakes over other forms.

By: lculig

A whey protein shake may be prepared from protein powder.

By: Warren Goldswain

Many athletes drink whey protein shakes to protect them from excessive injuries during a workout.

By: Christopher Howey

Protein shakes can be drank to help build muscle mass.