What is a Truck Driving Academy?
In order to become a professional truck driver, one must first be trained in how to operate the truck safely and effectively. In fact, a driver must earn a specific type of driver's license in order to be considered legal and professional. In order to do so, drivers must attend a truck driving academy, where they will learn how to operate a big rig truck and earn their license to operate professionally.
A truck driving academy will offer its students the opportunity to earn a commercial driver's license, or CDL. A driver may not legally operate most commercial trucks without such a license, and certain endorsements are also usually necessary. A truck driving academy can offer different tracks of coursework, depending on what the student wants to accomplish. Some students may have already been hired by a company, while other students may be starting cold in hopes of finding a job after completing coursework. Many truck driving academies offer assistance in job placement as well, which can go a long way in a competitive market.
Most courses at a truck driving academy will include classroom instruction, in which students will learn about proper use of air brakes, suspension, and other truck functions, as well as how to properly secure cargo. The coursework will then continue with on-the-road training, during which students will learn how to properly handle a vehicle that is fully loaded down, how to hitch a trailer to the truck, and other essential job functions.
Depending on what line of course work a student chooses, a truck driving academy may offer to let students earn a Class A endorsement, which allows the student to drive trucks of a larger size. This is considered essential for drivers who will be hauling large amounts of freight. For smaller trucks, such as local delivery trucks, a different endorsement may be required.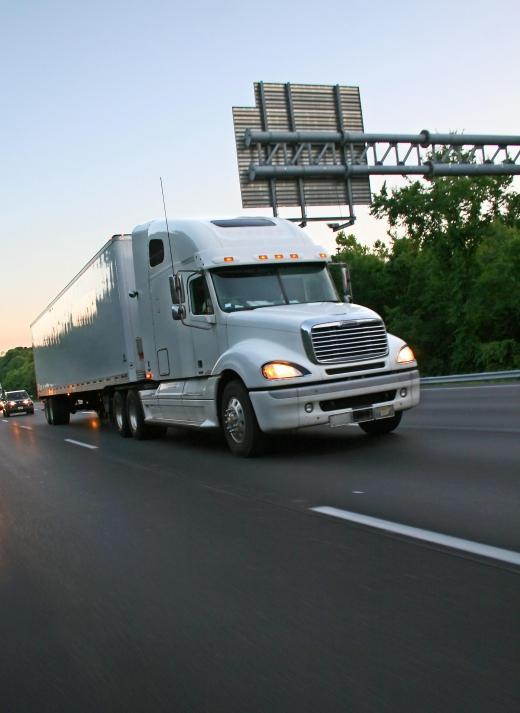 Safety training is a large part of the coursework at a truck driving academy. Students must learn how to safely handle their vehicles, but they must also learn important safety rules and laws that apply to their day to day operations. For example, restrictions exist regarding how many hours a long haul trucker may drive in a 14-hour period; first aid training is required if a driver will be taking on any passengers; and drivers must pass a physical in order to obtain a CDL, showing that they are fit and well enough to drive.
AS FEATURED ON:
AS FEATURED ON:






By: daseaford

A truck driving academy will teach students how to inspect individual truck parts, including brakes.

By: majeczka

Truck drivers who transport fuel must be trained in the proper shipping of flammable liquids.

By: torugo

Semi-truck drivers may be able to complete their training in as little as four weeks.

By: Gilles Paire

Truck driving academies may have job placement programs to help trainees find work.

By: Arsel

Safety training is a large part of the course work at a truck driving academy.