What is a Running Calendar?
A running calendar is an organizational tool used by runners to schedule and record their running. By planning and recording runs on a calendar, runners are able to keep track of their progress and ensure they remain on a running schedule that fits their capabilities and their lifestyles. In a more general sense, a running calendar may refer to a schedule of running events such as races in a given area. Calendars may also be used by running teams to plan practices, races, and other events. These kinds of calendars are generally made by event coordinators or coaches and distributed to the public or to a team.
Many people choose to use a running calendar to plan their fitness routine on a daily basis. Some people simply mark the distance they want to cover in a given day while others may indicate specific trails, tracks, or roads they want to run. Competitive runners may also use such calendars to keep track of races they want to compete in. People who simply run for fitness often have a general fitness calendar instead of a calendar that is specifically devoted to running. They may plan everything from running and biking to weight lifting and fitness boxing on their fitness calendars.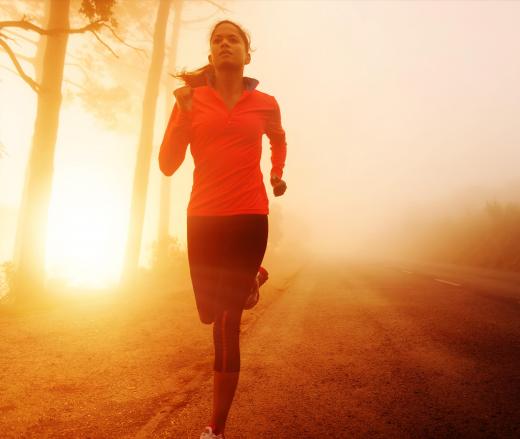 It is not uncommon for a running team to use individual running calendars and a group running calendar. The coach will often plan out each runner's individual calendar based on skill, experience, and time restraints. A beginner's running calendar, for example, would be very different from a more advanced running calendar. A group calendar often includes special workouts that the whole team does together as well as races and other important team events. School running teams often use running calendars to plan individual workouts over the summer break when runners cannot practice together regularly.
The specific nature of the running calendars used by different people may vary drastically based on the goal of running. People on a tight schedule who run for personal fitness may use a running calendar to plan indoor running routines on a treadmill or at a track. Running for weight loss is also common; people who wish to lose weight often choose to run short, intense intervals instead of long, consistent routes. People who are training for long races such as marathons tend to use a running calendar to plan regular, long-distance runs. People training for shorter races over uneven terrain often engage in varied workouts such as hill runs, interval repeats, and distance runs; running calendars help to keep these varied runs organized.
AS FEATURED ON:
AS FEATURED ON:






By: Warren Goldswain

Some runners keep a record of their running.

By: berc

Runners may use a running calendar to keep track of running routines on a track.

By: Deklofenak

People training for a marathon may use a running calendar.

By: Monkey Business

A group running calendar can keep a team of runners on pace to be ready for a race.

By: ramonespelt

Short distance runners may add uphill runs to their workouts to improve speed, strength and endurance.