What is a Primary Care Center?
A primary care center could be any medical center that focuses on primary care. It could the primary care outlet of a hospital, a doctor's office, a pediatrician's office, or even some offices run by internists or obstetrician/gynecologists. The main thing that these centers will do is give basic illness and wellness care.
Usually, primary care is contrasted to secondary and tertiary care. Secondary care could be thought of in a number of ways. Most specialists, except those mentioned above, provide secondary care, and often people will pursue this care at the advice of their primary care center or primary physician. Tertiary care centers are usually huge hospitals attached to medical schools, and they offer a full complement of specialists who can give complex care as needed.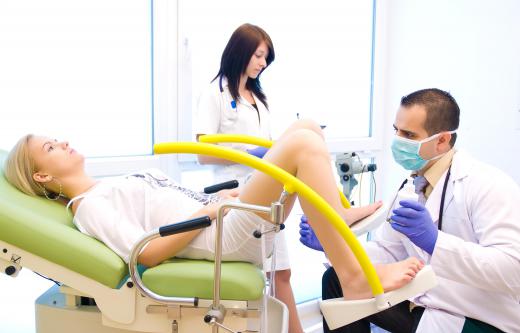 This doesn't mean that a primary care center doesn't give good care but it tends to be limited care. If the center were part of a major hospital, and this is true of many of these centers, it would simply move more complexly ill patients to other parts of the hospital as required. When a primary care center simply focuses on giving patients care for routine illness or for preventative care, it may have specific rules about when patients should go to a hospital instead. Usually if a situation is so urgent it cannot wait for a visit in a primary care office, patients are referred to emergency rooms or told to call emergency services.
The types of care offered by a primary care center are usually a fully variety of preventative care options. For the adult this could mean getting yearly or bi-yearly checkups, having things like flu shots, and receiving education on common health issues likely to affect patients in the adult's age group. When people develop symptoms of illness, from things like viruses, infections or potential dysfunction of an organ, they'd also head to their primary care doctor for diagnosis and advice.
Sometimes a primary care center serves a certain population. Many communities have free or low cost health centers that are available to preserve the health of all community members. These could offer check-ups, immunizations, diagnosis of illness, and treatment of minor injuries and they might serve adults and children. They may not provide the same level of continuity of care as is provided in more moneyed primary care centers because they might staffed by volunteer doctors who only serve at the clinic for short periods of time.
Many people prefer going to a primary care center with a large physician and/or nurse practitioner staff. A larger facility may have better hours, making it easier to get appointments. Others find that when primary care morphs into a "center" that includes a lot of doctors, they don't get as personalized of care, and they can never depend upon having the same doctor from visit to visit.


By: Aliaksandr Dobysh

Obstetricians can be a part of a primary care health team.

By: Zsolnai Gergely

Gynecologists are fully qualified medical doctors who specialize in women's reproductive system health.