What is a Primary Care Office?
A primary care office can be any doctor's office that provides general care for most average illnesses and small injuries, and preventative care. The term may be differentiated from primary care physician because it is the office in which the physician works, and the office could be home to several doctors, nurse practitioners and physician's assistants who work together. Sometimes another key difference when doctors practice together is that people won't always get to see their primary doctor, but they will see one of the doctors or other health professionals who work in the office. All will have access to the patient's records so that continuity of care is maintained. Of course, one doctor may run a primary care office too.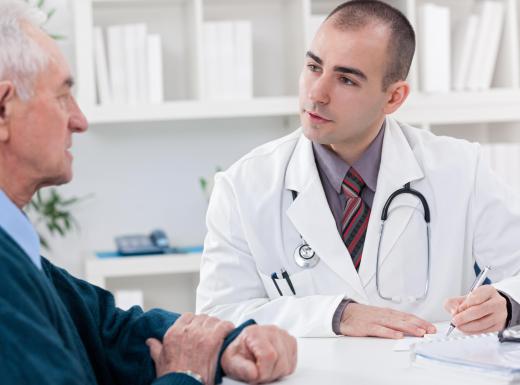 Those people who have health maintenance organization (HMO) coverage may be asked to choose a primary doctor or a primary care office. Some people do want a relationship with a single doctor instead of with a group of physicians. This is always something that people can ask doctors when they go through the list of available doctors to choose. The advantages of having one doctor are that it's possible to build a relationship with that physician, but the disadvantage can be shorter hours, longer wait times for appointments, and possibly no availability on weekends.
There are several different kinds of doctors that might work in a primary care office and people often have a choice. For instance, for their kids, people can choose primary care from pediatricians. Alternately, they may want the whole family to be able to go to one primary care office that is staffed by general practitioners. Adults have a few more choices. Women may choose to have their obstetricians become their primary doctors, and they might do so especially if they have an obstetrical or gynecological condition that requires regular follow-up. Another choice of adults is internists, who often can serve as primary care physicians.
The primary care office also has its complement of health care workers. Nurses or nurse assistants usher people into rooms and may give things like vaccinations. Medical assistants and/or nurses could run the front and back offices. These offices often need to be judged not only on the quality of doctor care but also on the quality of the other workers. Poorly organized booking or employee rudeness may make any visit to the doctor a dreaded experience.


By: Aliaksandr Dobysh

Obstetricians can be a part of a primary care health team.

By: Igor Mojzes

Several types of doctors might work in a primary care office.