A pet sitter is essentially a babysitter for pets. Increasingly popular in the 21st century, pet sitters are utilized by people who need additional care for their dogs, cats, or other critters. A pet sitter may work full time in the field, or as a part time hobby. A pet owner may hire an animal sitter for a short or long period of time. Regardless of whether the pet owner needs help daily or once in a while, a sitter is thought by many to be a better alternative than a kennel.
There aren't many options for people who wish to have in-home care for their pets. For decades, people have been dropping their beloved creatures off at the kennel on the way to work or vacation. The other alternative — asking friends or family for assistance — has never been the ideal situation. Rather than feeling awkward or indebted towards friends and family regarding payment, people have begun turning to pet sitters.
A pet sitter usually cares for a pet in its own home. There are varying degrees of pet sitting, however. Some pet sitters are hired to simply walk the dog once a day while the owners or at work, or if the owners are physically incapable of such a responsibility. Other sitters may be contracted to visit the house two or three times a day to feed and care for needy animals. Uncommonly, a pet sitter may watch a pet at his house, or stay at the client's house with the pet.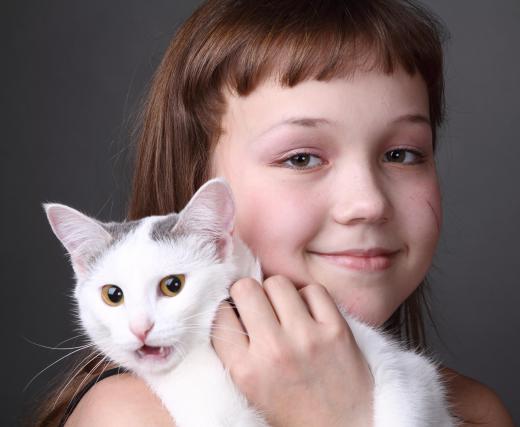 Such animal caretakers may charge by the half hour or hour, visit, or week. A pet sitter may also offer additional services for various fees. For an additional fee, a pet sitter may be willing to spend an hour or more a day training the pet. Generally, such sitters should have a verifiable certificate proving their training abilities. Pet first aid certification is sometimes included in training certification classes, as well. Sitters that transport pets to veterinarian appointments will likely charge additional fees, as well.
Many pet sitters are licensed, insured, or bonded. Pet sitters needn't be licensed in most areas, and such licenses may not be available everywhere. A sitter who claims to be licensed has most likely been permitted to run a professional business. A caretaker may also be insured or bonded in case of theft.
Clients should, however, make sure to inquire regarding previous experience and references. Because pets are considered part of the family in most cases, owners should take a few minutes to call a potential sitter's past clients. Past clients can provide valuable insight in regards to the sitter's personality and abilities.
AS FEATURED ON:
AS FEATURED ON:






By: Andres Rodriguez

Pet sitters can offer basic training as an added service.

By: Сергей Чирков

Pet sitters have to be compassionate toward animals.