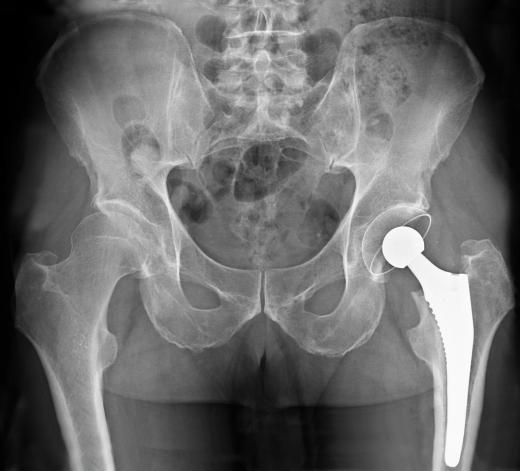 A hip incision is a part of surgical operations around this area of the body; in the most simple sense, a hip incision is any cut into the various skin layers over the hip joint. This type of incision is most commonly done for the purposes of hip replacement, which is becoming a common surgery in many medical communities. Hip replacements allow more mobility for those who have specific problems related to the connecting tissues or bones in the joint.
Many conventional hip incisions are in the range of 10 to 12 inches (25-30 cm) in length. These are commonly made on the side of the hip, where doctors split or detach muscles in order to facilitate access to the joint. Closure and recovery for these types of incisions vary depending on the exact procedure and existing patient health conditions.
In some kinds of new minimally invasive hip replacements, the hip incision that is implemented is much smaller. Doctors can sometimes perform hip replacements with a series of smaller incisions. Candidacy for this type of new hip replacement surgery involves assessing the age, body mass, and general health of the patient.
Patients who are considering hip incisions as part of a hip replacement process need to know about some risks related to this type of surgery. Aside from the conventional risks that apply to many similar joint surgeries, recent recalls of certain models of hip replacement parts are causing a lot of concern in many areas of the world. These devices, which are commonly called metal on metal hip replacements, are known to be vulnerable to certain problems including metal flaking that can contaminate the joint area. This is something a patient should ask about in consultation while talking about the hip incision and other parts of the hip replacement surgery.
Other questions with hip incisions often involve chances of scarring or long-term visual disturbance of the skin. Scarring is another factor that depends quite a bit on the individual. Other issues for these incisions relate to potential for infection or side effects from surgery. There are a range of best practices regarding sanitation that will help give the incision a better chance of healing well and without infection. Doctors often present many of these to patients who have had a hip incision done.


By: NICOLAS LARENTO

An X-ray of the pelvic area, showing a metal replacement hip.

By: michelaubryphoto

Hip incisions involve chances of scarring or long-term visual disturbance of the skin.

By: WavebreakmediaMicro

In new minimally invasive hip replacements, the surgical incision may be quite small.