What is a Cordless Lawn Mower?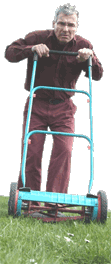 Under the right circumstances, a cordless lawn mower can be a nice middle ground between two previously unsavory choices -- noisy, fume-belching gas models and hundreds of feet of clumsy extension cord. The advantages are obvious: Gas mowers are often difficult to start, can be deafening to those in close proximity to them, and are one of the prime villains in increased air pollution.
Riding lawnmowers may eliminate the start-up problem (no cords to yank), but they also eliminate the peripheral exercise benefits of do-it-yourself lawn care. And if your lawn is studded with trees, bushes, lawn sculptures, etc., trying to operate with a long cord can be an exercise in frustration. Enter the cordless lawn mower, which runs off a battery -- typically 24 volts.
This is more than enough power for the average small lawn, equal to roughly five horsepower in a gas-fueled mower. And although the battery will generally need to be recharged after each use, it can rejuvenate itself within 24 hours. Or, it may come with replaceable battery packs.
Moreover, there is no need to stockpile messy and potential dangerous gas cans, and moving away from gas can save a significant amount of money over a mowing season. Meanwhile, turning down the volume -- a cordless lawn mower typically gives off between 65-80 decibels, as opposed to 90-100 for its gas-eating cousin -- can ease the nerves of your neighbors. Some cordless mowers also offer the additional advantage of a mulching feature. For those and other reasons, the Environmental Protection Agency strongly recommends electric.
On the down side, a cordless lawn mower is a sensitive piece of equipment that tends to wilt under a heavy workload. Beyond a third of an acre, the battery will begin to lose its charge, and the mower its power. Nor is it a good idea to use a cordless lawn mower to attack abnormally high or wet grass, because this will also be a drag on the power source.
Man mowing the grass