What is a Commercial Steel Door?
A commercial steel door is a metal door that can withstand frequent heavy use while keeping a building secure for many years. These doors are used in commercial settings, including schools, industrial buildings, and storage facilities. Steel doors are hung in steel frames, which can provide a better level of support and security than a wood frame. The term "hollow metal door" is commonly used to refer to a steel commercial door in order to help distinguish a swinging door from an overhead roll-up steel door.
While steel doors may be used on the interior of structures, they are almost always the best choice for exterior applications. A commercial steel door is one of the strongest and most durable options for securing a building, and is highly resistant to rain and extreme temperatures. Unlike wood doors, hollow metal doors will not shrink or rot when exposed to the elements, and they offer a greater level of insulation than most wood doors are capable of.
Construction of a commercial steel door starts with selecting a core. Standard cores are made of honeycombed-cardboard treated with a resinous strengthening agent. For additional insulation, polystyrene or polyurethane cores may also be used. If the door must be fire-rated, a mineral fiber core is used, which is able to withstand flames and high temperatures for up to three hours.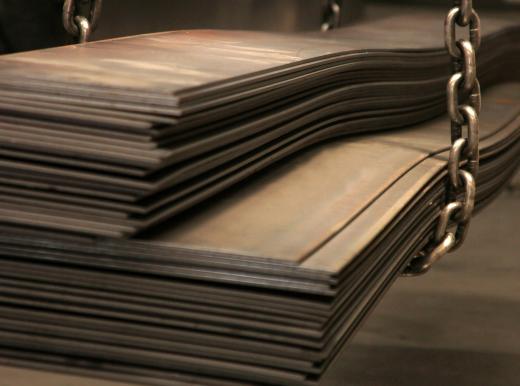 Next, a steel skin is stretches across the sides of the core, with additional pieces welded along the edges. The skin can be made from galvanized steel, which is resistant to rust and corrosion, or from cold-rolled steel, which is better for interior applications. These sheets come in different gauges, generally from 20 to 14, and the lower the gauge, the stronger the door will be. Before a commercial steel door is shipped, it will often be prepped to receive hinges, locks, and other door hardware. For many jobs, each door will also be numbered according to the project documents, making it easy for installers to determine the location of each unit.
A basic commercial steel door is flush, meaning that it is smooth on both sides with no windows or openings. On stairwells and other paths of travel, a small window, or lite, is added to allow users to see through before opening the door. On some doors, a louver is added to help with ventilation, especially in rooms with large pieces of mechanical or industrial equipment. Some specialty options include embossed panel designs on the face of the door, or embossed wood grain texture, which provides the look of a wood door and the strength of a metal door within one unit.
Some steel doors are available with specialty features to meet the needs of some commercial users. In hospitals and industrial spaces where noise is a concern, hollow metal doors can be equipped with acoustical cores, which help block sound transmission. For military and police organizations, bullet resistant doors are available. These doors have special steel-stiffened channels, and come in various configurations designed to stop almost any kind of bullet. Finally, lead-lined cores are often used by medical or research facilities that have x-ray or MRI machines.
AS FEATURED ON:
AS FEATURED ON:






By: Mikhail Kondrashov

Commercial steel doors with lead-lined cores are often used by medical facilities that have MRI machines.

By: Kybele

A skin of steel sheet metal is stretched over the core of a commercial steel door during manufacturing.