When one is discussing a coil whisk, it is important to differentiate between the two styles of coil whisk, as they are used for different things. A spiral, sauce, or delbor whisk has a round head formed by molding a coil around a solid metal core. A bedspring coil whisk, on the other hand, resembles a spring projecting from the end of a typically short to medium length handle. Both whisks are very useful around the kitchen, in addition to being conversation pieces since they are somewhat peculiar to look at.
The first type of coil whisk is excellent for small amounts of liquid, or working in confined spaces. The head of the whisk is designed to be extremely flexible, so that it can conform to pans and mixing bowls of a wide range of sizes. Since the head bends to fit the space it is inserted into, this type of coil whisk will constantly make contact with the pan or bowl, ensuring even mixing and preventing burns. Many people use this whisk for sauces such as roux, making vinaigrette, and similar tasks.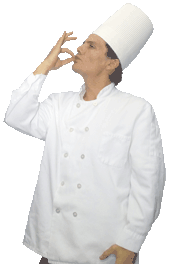 The second type of coil whisk is designed to be stationary in a bowl while the user pumps the handle up and down. It is ideal for things like beating eggs, since it circulates liquids readily throughout a bowl as it is pressed up and down. However, it is not suitable for whisking in the traditional sense, since dragging the whisk through a liquid or batter simply stretches out the coils, rather than actively mixing.
Typically, the head of either coil whisk is metal, since it holds the coiled shape well and stands up to repeated uses. The handle may also be metal, or it may be made from a cool grip material such as wood or silicone. In either case, a coil whisk should be hand washed to avoid damaging the coils and rendering them useless. In addition, the coil whisk should not be crammed into a utensil drawer, as this may deform the coils.
When selecting kitchen whisks, it helps to get a couple at a time, rather than trying to assemble a complete collection. Basic whisks should always be acquired first, since cooks will usually find more needs for them. As cooks advance their skills, specialized whisks such as coil whisks can be purchased. Since a whisk is such a vital kitchen tool, take the time to buy a high quality kitchen whisk which will last for years, and try to test a whisk before purchasing it, if you can. Look for a handle which feels right in your grip, and consider if the length of the handle is enough to keep your hand out of food and away from the heat of the stove.
AS FEATURED ON:
AS FEATURED ON:






Chef