What Help Is Available for Soldiers with PTSD?
Soldiers are at high risk of developing an anxiety disorder that can occur after a traumatic event, known as post traumatic stress syndrome (PTSD). In most countries, soldiers are able to seek help from government agencies that provide aid to veterans. Soldiers with PTSD are also able to get help from civilian doctors and mental health professionals. Therapy, medication, and support groups may all be helpful when treating PTSD.
Post traumatic stress disorder (PTSD) is a type of anxiety disorder that can affect people who have been exposed to something traumatic. In the past, this disorder was sometimes referred to as battle fatigue or shell shock. Soldiers, particularly combat soldiers, are typically at higher risk of suffering from PTSD. War is a traumatic experience, and many soldiers with PTSD will often have trouble dealing with this experience.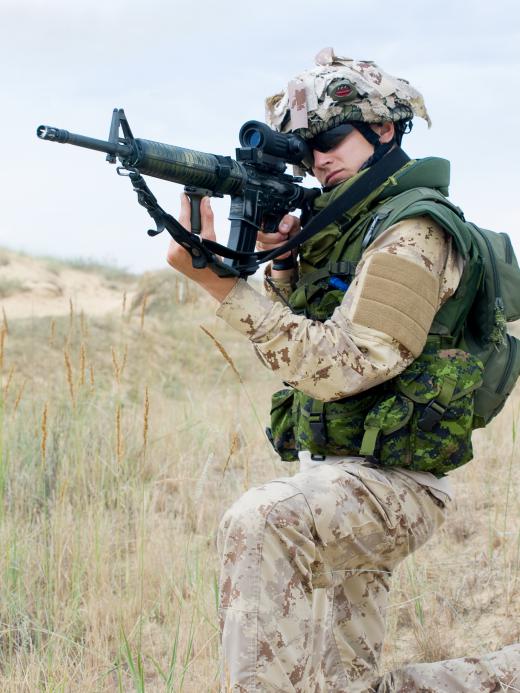 Government agencies will often have programs to help soldiers with PTSD. In the United States, many soldiers are urged to contact the Department of Veterans Affairs. There are a number of clinics and medical centers all over the country that treat soldiers and veterans. Former soldiers will often find that PTSD treatment in these medical centers is inexpensive, or even free.
Soldiers with PTSD can also speak with their primary physicians about PTSD treatment. A person's doctor may not be able to provide primary treatment for PTSD, but he will often be able to provide referrals to medical professionals who can. Mental health professionals, such as psychologists and psychiatrists, are usually better able to treat PTSD.
Cognitive behavioral therapy may be helpful for some soldiers with PTSD. Exposure therapy, for instance, is a very popular treatment for PTSD. Before this therapy begins, a patient is taught a variety of relaxation techniques, such as deep breathing. A patient is then reminded of traumatic events. By doing this, most patients will learn to deal with these upsetting memories in a healthy manner.
Mental health professionals may also use medications to treat soldiers with PTSD. Selective seratonin reuptake inhibitors (SSRIs)are often prescribed to help control symptoms of depression and anxiety. These medications work by regulating the amount of seratonin, a mood enhancing chemical, in the brain.
Some soldiers with PTSD may also find support groups helpful. Many PTSD support groups are often geared toward PTSD sufferers who have gone through similar traumatic events. Support groups will often help PTSD sufferers realize that they are not alone. Members of these groups will also usually find that they are much more comfortable discussing their problems with like-minded people.
AS FEATURED ON:
AS FEATURED ON:






By: Oleg_Zabielin

The Department of Veterans Affairs has programs for veterans with PTSD.

By: USMC Archives

Combat soldiers are at a high risk of suffering from PTSD.

By: Burlingham

Support groups for PTSD sufferers often consist of people who have gone through similar experiences.

By: Halfpoint

Veterans who don't treat their PTSD may end up becoming homeless.

By: John Gomez

SSRIs are often prescribed to help control symtoms of depression and anxiety.