How do I Find PTSD Support Groups?
One of the most recommended therapies for Post Traumatic Stress Disorder (PTSD) is to join a support group comprised of other members suffering from similar situations or side effects. PTSD support groups can be found through doctors' offices, schools, churches, and offices of veterans' affairs. Regardless of the type of traumatic incident, people can often find strength in numbers.
The quickest, and perhaps easiest, way to find PTSD support groups is to go online. A simple keyword search using "PTSD support group" and a particular city and state may possibly reveal a group in the area. If not, visit a doctor's office. Mental health professionals, such as psychologists or psychiatrists, should have information on finding a support group as well as offer one-on-one counseling if necessary. Even a general practitioner will likely be able to refer someone to an area group. Most doctors' offices will not charge to give a referral, but if so, a free alternative is to consult a professional at a local public health department.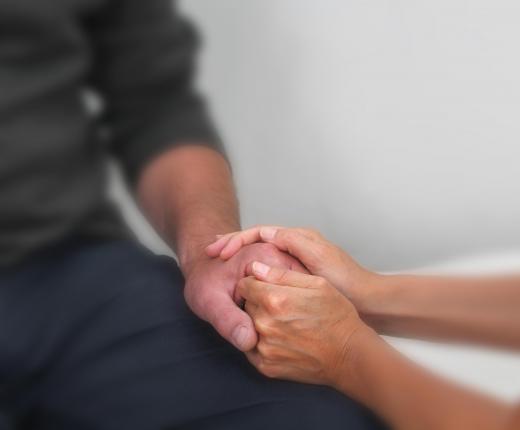 People in grade school can seek out a guidance counselor or other equivalent professional who can advise them on the availability of PTSD support groups. College campuses are also a good resource for a student or even a non-student. Guidance offices can direct a person to a group held either on or off the school campus. Churches are another great resource for victims of PTSD, as many people seek spiritual advice when encountering emotional or psychological difficulty.
PTSD is frequently discussed in relation to the armed services and wartime. Many soldiers fighting at home or abroad have experienced one or more traumatic events which may manifest later as PTSD. For this reason, offices of veterans' affairs are well-equipped to provide information regarding PTSD support groups and other resources available to victims.
Small communities may not have PTSD groups already established. In this case, one may travel to a nearby town with a greater population and larger focus on PTSD. Another option is to start a PTSD support group which may begin with two or three people and grow. It is possible to discuss the option with one or more therapists to find out if starting a local group is feasible.
PTSD is a psychological affliction which can cause anxiety and depression, among other things. The disorder typically afflicts persons who have experienced some sort of traumatic event, such as war or rape. PTSD support groups can offer assistance to those persons suffering from PTSD.
AS FEATURED ON:
AS FEATURED ON:






By: Nikki Zalewski

PTSD support groups can be found through doctors'offices.

By: USMC Archives

Combat soldiers are at a high risk of suffering from PTSD.

By: Burlingham

Support groups for PTSD sufferers often consist of people who have gone through similar experiences.

By: joyb0218

Soldiers who are injured in combat often suffer from PTSD.

By: FrankBirds

Survivors in a community hit by a natural disaster may band together to form a support group.