What Hair Styles are Common for Brides?
Bridal hairstyles are an important part of the overall look of a wedding, and also a fun way to pamper the bride on her special day. Brides all over the world use a wide array of hairstyles meant to compliment different types of facial structure and complexion, and limited only by imagination and the length of the bride's hair. While traditional bridal hairstyles call for long hair, short haired brides should not despair: there are lots of beautiful, fun, and formal bridal hairstyles that can be accomplished with short hair.
Formal bridal hairstyles usually involve pulling hair up into an up-do, an elaborate and sculpted hair creation with a base like a bun or a French twist. Formal up-dos usually smooth out the hair so that it lies flat against the skull and it is evenly pulled up and back into the desired hairstyle. Most up-dos integrate cascades of curls, flowers, or other accents to soften and romanticize the look. Less dressy bridal hairstyles for long hair still involve an up-do, but include softer lines, allowing more hair to escape and framing the face in a soft and attractive way. The hair can also be left long and flowing, of course, for a more natural and casual look that will still be beautiful.
Brides with medium length hair can experiment with up-dos and other formal bridal hairstyles requiring medium to long hair, or they can look into some shorter styles. Brides with short hair have the option of integrating barrettes, headbands, flowers, and other accents into their hair, usually pulling back and securing the hair with barrettes or hair pins so that it frames the face evenly. Small curls or waves could be added, or the hair could be specially cut for the occasion in a bob or another short and sweet hairstyle.
Curly haired bridal hairstyles usually emphasize the natural beauty of the curls, rather than covering it up with an elaborate hairdo. Curly hair could be left long and wavy or piled on top of the head and arranged in a soft up-do. Curly long hair can be arranged into complex knots, French twists, and other elegant hairdos as well. Brides with curly hair should prepare for several hours of hairstyling, as the hair may need to be straightened and re-curled for the best results.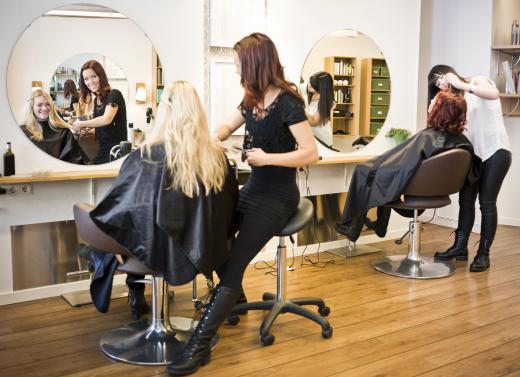 Once a bride has visions of bridal hairstyles in her head, she should go to a professional stylist or salon and talk to them about her styling options. Many stylists will travel to a site to help a bride get ready, and may bring assistants along as well to style the rest of the wedding party. Ideally, a bride may want to spend a day experimenting with different bridal hairstyles before the big day, although this will add to the overall cost of the styling bill. When a bride goes to meet with a stylist, she should bring her veil along, if she is wearing one, along with the dress or pictures of the dress, so that these elements can be taken into account when considering a hairstyle.
AS FEATURED ON:
AS FEATURED ON:






By: kornienko

Hair styling products.

By: furmananna

Brides have a wide variety of hair styles to choose from depending on what type of look they are going for on their wedding day.

By: gemenacom

Most wedding hair stylists also work in a traditional hair salon.

By: fotoatelie

A bride might have a friend or relative style their hair for them.